Menopause and Your Skin: Common Problems and Real Solutions
November 25, 2020 - Rhys Branman, MD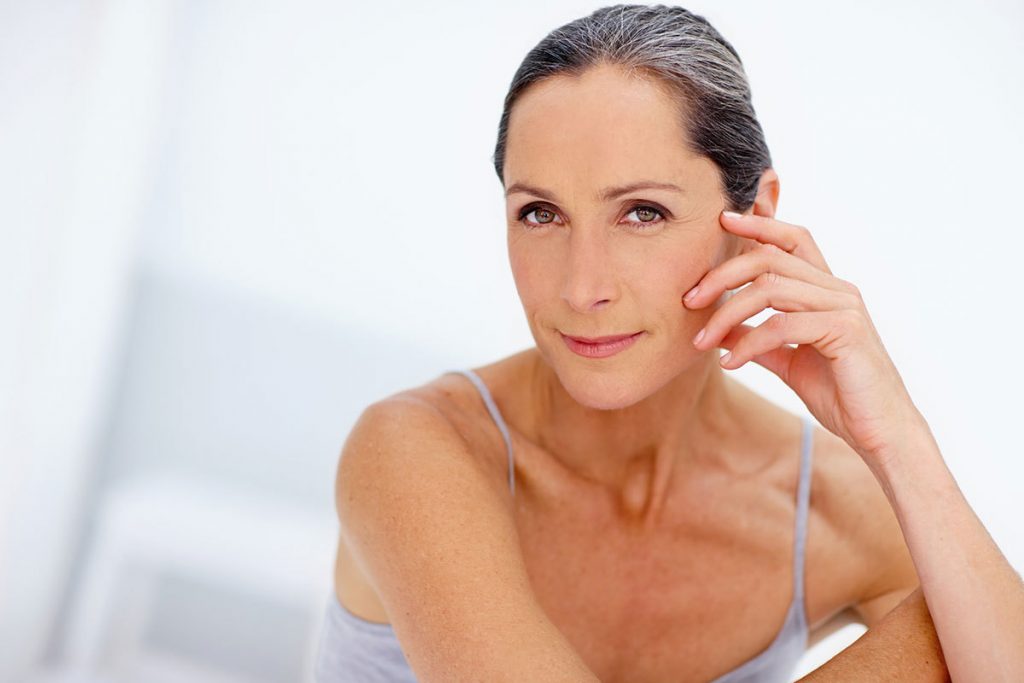 While getting older comes with benefits including increased maturity and wisdom, many women enter their late 40s and 50s with a sense of dread, knowing they will experience the effects of menopause. As if the emotional and physical aspects weren't enough, menopause can also take a toll on your skin—but there are ways to mitigate its effects. In this post, we'll answer some of your top menopause-related skin questions, then offer some of the best non-surgical ways to manage the visible aging effects of menopause.
Menopause, your skin, and collagen
Menopause typically begins around the age of 50 and "officially" starts after you have not had a menstrual cycle for one year. That said, you may experience effects earlier, during what is called the perimenopausal phase—when your estrogen levels start to rise and fall in less predictable ways.
Around 30% of your skin's collagen is lost during the first five years after menopause.
– American Academy of Dermatology Association
Because menopause means your ovaries will have stopped producing estrogen, resulting in collagen depletion, your skin can become drier, duller, and less elastic. The decrease of skin collagen in adults is estimated to be around 1% each year, and, unfortunately, is more noticeable in women than in men. In fact, around 30% of your skin's collagen is lost during the first five years after menopause.
In addition to having impacts on your skin, lower estrogen levels can decrease breast volume and increase hot flashes, night sweats, headaches, insomnia, fatigue, bone loss, and vaginal dryness.
What your skin can expect from menopause—and what you can do
While everyone's skin ages differently, these are the most common skin issues we see associated with menopause and postmenopause. We also included our favorite non-surgical "menopause makeover" treatments to rejuvenate your skin and help you age gracefully.
Dry skin and wrinkling
Estrogen increases oil and collagen production in your skin, making it smoother and more moist—and a lack of estrogen in menopause can cause your skin to dry out and wrinkle.
What you can do about it: Thankfully, injectable neurotoxins such as BOTOX® and Dysport® can significantly reduce frown lines, forehead lines, and crow's feet, taking 5+ years off your face overnight. BOTOX® and Dysport® are neuromuscular wrinkle blockers that inhibit the nerve impulses of muscles that cause wrinkles in the face, allowing them to soften and become less visible.
Dermal fillers like the Restlyne® and Juvéderm® families use hyaluronic acid—a protein that naturally occurs in your body—to fill in wrinkles, acne scars, and fine lines to create a smoother, more hydrated complexion. You may also want to consider treating your cheeks for a visible lifting effect in the mid-face: both Restylane Lyft™ and Juvéderm VOLUMA® are specifically formulated to add volume to your cheeks for a more youthful appearance, with effects that last for over 6 months.
All of our injectables and fillers are performed by our Certified Plastic Surgery Nurse, Leslie Harmon, RN, BSN.
Facial hair
Are you noticing pesky hair popping up on your face for the first time? While menopause causes your estrogen levels to drop, your testosterone levels may remain constant or even increase, causing unwanted facial hair.
What you can do about it: If you don't mind plucking a few chin or upper lip hairs, chalk this change up to getting older. But if they are becoming plentiful, laser hair removal is your best bet to not only remove the hairs, but prevent them from growing back. Cutera CoolGlide is our favorite form of laser hair removal because it immediately cools your skin after each laser pulse, helping you stay comfortable while minimizing the risk for skin irritation. The CoolGlide is also highly adjustable, allowing us to adapt to your specific skin type and hair thickness.
Got pesky hair in other areas? We offer laser hair removal options for your entire body.
Hair loss
Menopause is frustrating. While you gain hair in some unwanted areas, you may simultaneously lose hair where it is most desirable: your head and eyelashes.
What you can do about it: If eyelash loss has left your eyes looking less defined, consider Latisse® eyelash enhancement. The product is easy to use at home and, over the course of just a few months, Latisse will stimulate the growth of fuller, luscious lashes, providing a more youthful look.
Acne
We know what you're thinking—why would menopause cause acne if it dries your skin out? We hate to break it to you (pun intended), but because of body hormone fluctuations, acne is a common side effect of menopause.
What you can do about it: Don't reach for the same acne washes you did as a teenager, as those tend to dry skin out. Instead, use a gentle daily skin cleanser (we like these). Microdermabrasion, a noninvasive resurfacing treatment used to revive dull and lifeless skin, is another option to consider as it can reduce the appearance of whiteheads and blackheads. (microdermabrasion treatment can also help skincare products absorb better.)
If acne scars are an issue, you might consider professional microneedling. SkinPen® microneedling—also called "collagen induction therapy"—uses a specialized medical device to create small openings in the skin to trigger natural collagen and elastin production, making it an effective way to improve the appearance of acne scars.
Thinning skin
When your body's estrogen levels drop, your skin loses collagen, causing it to thin and sag. Less estrogen also means less blood flow, reducing the amount of nutrients to your skin. We have a number of skin-thickening and smoothing treatments:
What you can do about it: Ultherapy rebuilds collagen and elastin naturally for tighter, smoother skin using ultrasound energy. It's a particularly good choice for women in their late forties and early fifties who want to put off the need for more invasive facial lifting procedures!
SkinPen® microneedling is another great option for helping your skin look younger, tighter, and smoother. It can even treat stretch marks, sun damage, and discoloration, including age spots.
When fillers and injectables aren't enough…
More severe sagging neck and jaw skin can be addressed with facelift or neck lift surgery. Although these procedures require a few weeks of downtime, they provide long-lasting benefits and set your body's "sagging timer" back 5 to 10 years.
Your eyes are the windows to your soul, and eyelid surgery is an easy and effective way to take years off your appearance. Oh, and did we mention that upper eyelid surgery is one of our October specials?
Do these 4 things for healthier skin
Whether or not you choose to undergo one of our skincare treatments, there are some lifestyle changes you can make to improve your skin's health:
Incorporate antioxidants like Vitamin C into your skincare routine to increase collagen, and niacinamide to reduce acne and minimize pores. We recommend the LUMIVIVE System, which blends antioxidants, peptides and natural extracts to freshen your skin and repair the damage done by blue light (emitted from screens).
Drink plenty of water and eat water-rich fruits and vegetables like cucumbers and watermelon. Eating these foods causes water to be slowly released into your body as you digest them, helping to hydrate dry skin.
Eat more foods that contain essential fatty acids like omega-3s and omega-6s, or supplement them with fish or flax seed oils. Essential fatty acids will help keep your skin moist, full, and youthful.
Use a gentle daily skin cleanser before and after bed (we like these). Make sure you skip acne washes, as those tend to dry skin out.
A word about menopause and skin cancer
While you may be eager to conceal age spots, it's important to make sure they're not cancerous first. According to the American Academy of Dermatology Administration (AADA), your skin is more prone to cancer once menopause starts.
The AADA recommends that in addition to regular skin checks with a dermatologist or other qualified provider, you begin conducting skin cancer self-exams when you hit your middle years. Use this guide to perform a skin cancer self-exam.
The Exhale Med Spa at Little Rock Cosmetic Surgery
At Little Rock Cosmetic Surgery Center and Exhale: The Med Spa, we have a variety of surgical and non-surgical skincare treatments. Let board certified cosmetic surgeon Dr. Rhys Branman, MD, and his highly skilled aesthetic team help you fall in love with your skin all over again. Send us a message or give us a call at 501-227-0707 to speak to one of our skincare experts today.