Dysport® in Little Rock
Updated September 16, 2016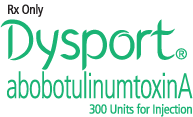 Dysport® is the latest botulinum type A wrinkle treatment to receive FDA approval in the United States and is now available in Little Rock.  Like BOTOX® Cosmetic, Dysport® is a neuromuscular wrinkle blocker; it blocks the nerve impulses of tiny muscles that cause wrinkles in the face, allowing them to flatten out and become less visible.
Muscles of the face frequently contract and cause the skin to fold. After a certain age, with sun exposure and loss of skin elasticity, these folds start to form static wrinkles. Treatments like Dysport®, which contain botulinum type A, are designed to disrupt this process of wrinkle formation and provide patients with smoother, younger looking skin.
Dysport® in cosmetic treatments such as the following:
Reduction of crow's feet/eye wrinkles
Reduction of frown lines between the eyebrows
Reducing the appearance of forehead lines
Watch a demonstration of a Dysport treatment with Dr. Rhys Branman
Frequently asked questions about Dysport®
The only way to learn whether you are a good candidate for Dysport® is to consult with a qualified cosmetic surgeon, below are a few of the questions our patients ask us about treatment. To learn more, give us a call or contact us for a consultation with Dr. Branman.
What is the difference between Dysport® and BOTOX®?
While both are neurotoxins used to achieve similar aesthetic goals, Dysport® uses a slightly smaller protein makeup of the botulinum toxin A, and the dosing is different between the two products. For certain patients, it provides great results at a lower cost that BOTOX.
Get Party Ready with Dysport & Restylane Lyft
Will my facial expressions continue to look natural?
A common misperception regarding injectables is that they somehow change the character of your facial expression.  The results are effective, yet subtle.  Nobody will be able to tell you received Dysport® injections.
How does botulinum toxin type A reduce wrinkles?
In small doses, the neurotoxin blocks the transmission of nerve impulses to specific muscles that cause wrinkles.