HydraFacial MD in Little Rock
Updated October 31, 2022
A more radiant, cleaner complexion is just 30 minutes away
Do you look in the mirror and think, "is there any hope for my skin?" Sun, stress, and aging surely take their toll, and over-the-counter creams and facials often deliver nothing but a smaller bank account. But thanks to a Little Rock HydraFacial treatment, you don't have to accept imperfections like fine lines, acne, enlarged pores, and dark spots.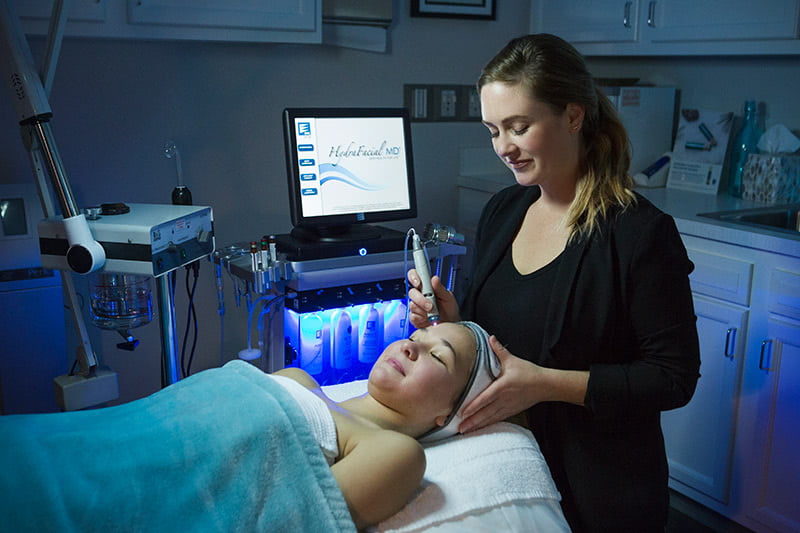 What is the HydraFacial MD?
If you've felt underwhelmed by the results of facials in the past, HydraFacial MD® may just change your mind. More than just a "feel-good" facial (although it can feel quite good), the HydraFacial uses a gentle yet powerful water-based Vortex™ system to not only cleanse and exfoliate your skin, but also infuse a customized serum complex to help repair damage, encourage healthy collagen production, and achieve a calmer, more balanced skin tone.
HydraFacial has quickly become one of our most popular treatments at our Exhale MedSpa at the Cosmetic Surgery Center, helping patients of all ages and skin types enjoy cleaner, brighter skin. Whether you have specific skin concerns or just want to give your skin a pick-me-up, we're sure you will love HydraFacial too!
Hyperpigmentation Before & After 4 HydraFacial MD Treatments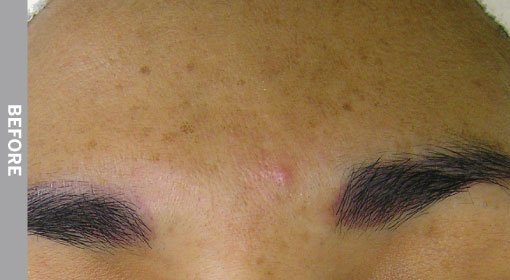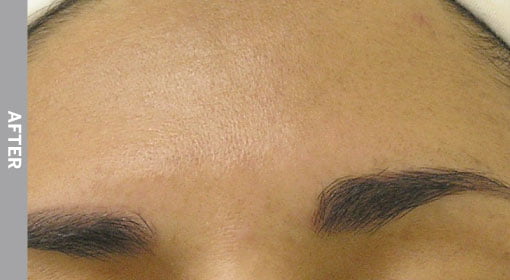 Is a HydraFacial treatment right for my skin?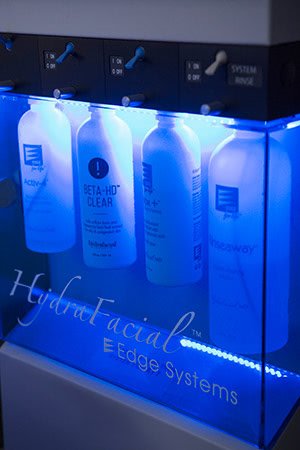 HydraFacial MD is a gentle, yet powerful skin treatment that is safe for almost all skin types. Since it uses water, rather than heat, abrasion, or harsh chemicals, patients find treatment to be very comfortable, even soothing or relaxing. No downtime is required, and many notice a difference in the way their skin looks and feels immediately after treatment.
If you want to tackle any of the following common skin issues, HydraFacial MD may be a good option for you:
Fine lines & wrinkles
Acne & congested skin
Hyperpigmentation
Dullness & dry skin
Large pores & texture imperfections
Even if you don't have specific skin concerns, a HydraFacial can help give you an overall boost in skin clarity and brightness, making it a good treatment to help prep for a wedding or other special event.
Take the HydraFacial Skin Health Assessment
Find the treatment plan that is right for your skin!
HydraFacial's 5 steps to more beautiful skin
One thing we love about the HydraFacial is that it packs a lot of TLC for your skin into one treatment. In fact, each HydraFacial involves 5 phases, each designed to optimize your results:
Vortex-Exfoliation. Exfoliates to get dead, dull cells out of the way.
Vortex-Peel. An application of Glysal™ further removes dull, damaged outer skin layers.
Vortex-Extraction. A gentle vacuum flushes out pores with a soothing, calming serum.
Vortex-Boost. A blend of customized serums target your specific skin concerns.
Vortex-Fusion. An infusion of anti-oxidant rich Antiox+ serum helps protect and refresh the skin.
Introducing PERK: A HydraFacial add-on for those on the go
Perk is a new "add on" system that can enhance your HydraFacial or be used as a stand-alone treatment to nourish and refresh your skin. This skin treatment quickly, safely, and effectively exfoliates away dry, damaged, and dead skin cells to make room for healthy, glowing skin to shine through—all while delivering antioxidants and nutrients to your skin. Perk targets areas not treated by the original HydraFacial, such as the lips and around the eyes. 
Love your lips:

The Perk lip treatment gently plumps your lips and locks in moisture. 

Hello, bright eyes!

Eye treatment brightens the delicate areas around the eye to reduce circles and puffiness. 

Revive your face.

Experience exfoliation and nourishment of your facial skin & enjoy a radiant glow!
What makes Perk unique is that you get the double bonus of a professional treatment plus you get to take home the same vial used during your treatment to use at home, helping you to maintain your results and enjoy healthy, beautiful skin. Most patients see results immediately and the benefits are long-lasting. 
How much does HydraFacial cost?
The cost of your HydraFacial will depend on the type of HydraFacial you choose and whether you include add-ons with your treatment.
Price of available HydraFacial treatments:

Signature HydraFacial: $200
Deluxe HydraFacial: $250
Platinum HydraFacial: $325

Price of add-on treatments:

Neck or chest add-on: $50
PERK Lip: $45
PERK Eye: $50
Introducing the NEW HydraFacial Elite MD
The HydraFacial Elite MD comes with state-of-the-art features for cleansing, exfoliation, and hydration. The treatment cleanses skin deeply and delivers nutrient-rich serums, plus includes add-ons such as LED lights, lymphatic drainage cups, and boosters for an even clearer and more radiant appearance.
HydraFacial Elite MD's boosters deliver active ingredients and hydration that nourish and protect your skin. We proudly offer the entire range of HydraFacial boosters at our Little Rock med spa.
HydraFacial Elite Pricing:
Deluxe HydraFacial (45 min) $250
Signature HydraFacial + Personalized Booster + LED light
Platinum HydraFacial (60 min) $325
Includes: Lymphatic drainage + Signature HydraFacial + Premium booster + LED light

What to expect from your HydraFacial treatment
A signature HydraFacial takes about 30 minutes at our Exhale MedSpa, depending on the treatment area. No special preparation is needed on your part; just arrive at your appointment without make-up on. After discussing your treatment goals, our Medical Aesthetician will prepare the HydraFacial with the serums that will target your skin's needs. During treatment, you will feel some pressure from the HydraFacial wand as it works to exfoliate, cleanse, and rehydrate your skin.
There is no downtime after treatment; you can reapply make-up immediately afterwards and continue with your day. You may notice your skin looks brighter and feels refreshed right after a HydraFacial, and the hydrating effects can last about a week. Other improvements, such as a reduction in fine lines, hyperpigmentation, and congestion will appear more gradually and with follow-up treatments.
How many treatments will I need?
Many patients are pleased with the effects of their first HydraFacial, but for lasting improvements in skin blemishes and congestion, we recommend receiving a series of treatments, spaced a few weeks apart. Our skincare team can help you develop a plan optimized to your needs.
Book your HydraFacial MD appointment at Exhale MedSpa in Little Rock.
Ready to get that instant HydraFacial glow? Contact us to get started at a personal consultation. Our friendly, experienced aesthetician at Exhale MedSpa at the Cosmetic Surgery Center will evaluate your skin, answer your questions and discuss your goals, and help you understand what HydraFacial might achieve for your skin.