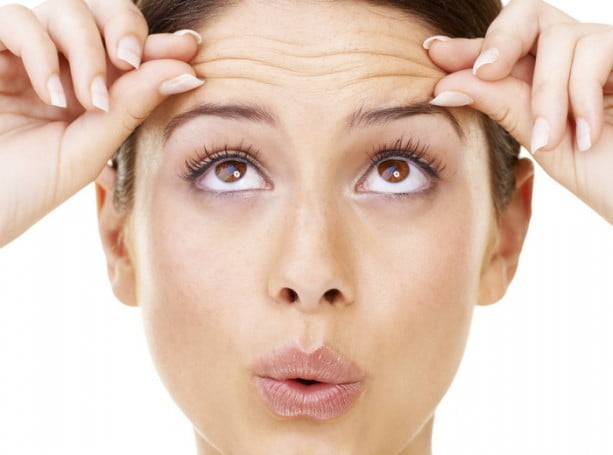 Let's face it: wrinkles are hard to avoid, unless you want to stop expressing your emotions all together. Those etched lines across your forehead didn't come out of thin air—and, unfortunately, they won't just disappear on their own.
The Daily Makeover recently highlighted the not-so-great things we do that age our faces and a few tips for hiding or eliminating those annoying forehead creases. Here are some of their suggestions, plus a few of our own!
The Right Kind of Makeup
As we age, concealer and a quick swipe of mascara don't always do the trick, and we often need a little extra help. Luckily, something as simple as adding a primer into your daily makeup routine could do the trick. Illuminating primers can help temporarily fill wrinkles and camouflage those pesky lines by reflecting the light away from them, all while helping avoid a "cakey" complexion that can make your skin look aged.
Fresh New Hairstyle
Hair changes can be scary, but they can also be empowering! Next time you're at the salon, considering trying something new, like bangs and highlights; even subtle changes can make a difference. Ask your colorist to lighten your hair around the eyes, which helps lessen the appearance of any lines or wrinkles. Also, try a cut that frames the face with choppy edges to soften your features.
Brow-Smoothing Neurotoxins
Unfortunately, cleverly applied makeup and a new haircut sometimes aren't enough to improve these signs of aging. The best way to reduce forehead wrinkles and smooth brow lines is with a neurotoxin injectable treatment such as BOTOX® or Dysport®. Both of these options are incredibly safe and effective when administered by an experienced professional, and they can help you achieve a more dramatic, long-term improvement.
There is one caveat: it is critical that you work with an experienced physician or aesthetician working under MD supervision to receive safe treatment and natural-looking results. If you're interested in BOTOX in Little Rock, we encourage you to contact our practice. We would be glad to help you explore your options!
Read the full article here.