7 Questions You Have About Lip Enhancement, Answered by a Cosmetic Surgeon
October 15, 2020 - Rhys Branman, MD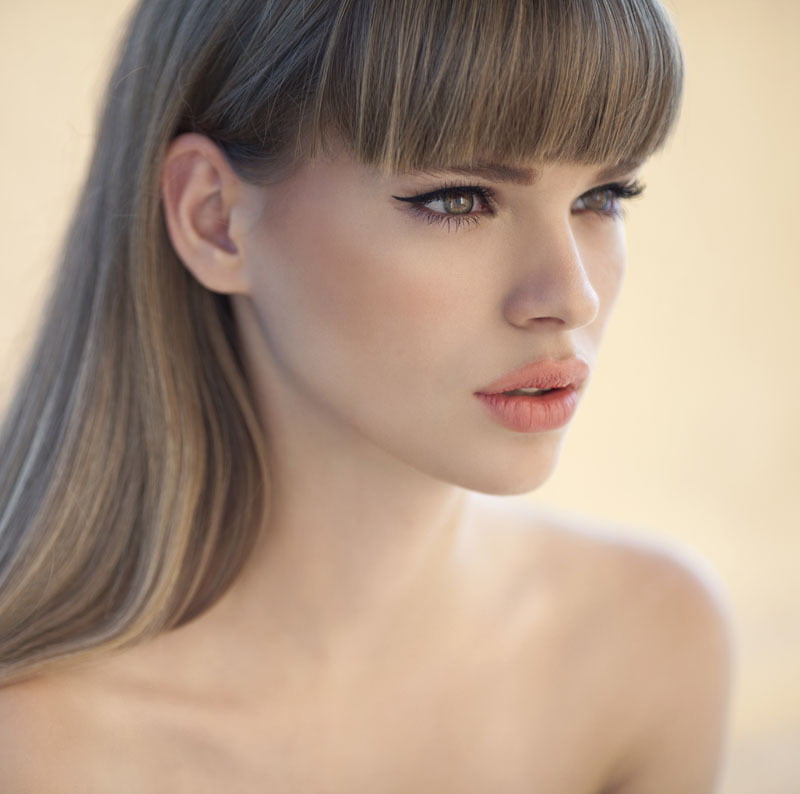 From slathering on plumping lip gloss to obsessing over Kylie Jenner's lip lining routine, it's clear that we as a society are all about full, gorgeous lips. Unfortunately, nature didn't get the memo, and most of us weren't born with the perfect pout—which is why recent years have seen a large uptick in people booking an appointment with their favorite cosmetic surgeon for a little lip love.
But how much do you know about lip enhancement? Before you head over to the nearest provider, read on—we've answered some of the most common questions we receive about lip augmentation.
What's the best filler for lip enhancement?
Today, there are a number of excellent fillers on the market, and what will work best for you depends on what results you hope to achieve. When choosing a lip filler, we are most often looking for a balance between lasting results and a soft, natural feel.
Here at the Cosmetic Surgery Center, we are big fans of using Juvéderm® or Restylane® for plumping the lips. They are considered to be fairly interchangeable—both products are hyaluronic acid-based and last about six months. Some patients report that Juvéderm feels a little softer in the lips, and it can last a bit longer.
While some newer fillers, such as Juvederm® Ultra Plus, are designed to last longer, they tend to be firmer so it is more common to choose softer products for natural-looking lip enhancement.
There are also a few lip enhancement options that don't involve fillers—we offer fat transfer lip enhancement for patients who prefer to use fat from their own body. This option involves harvesting a small amount of fat from your body using liposuction techniques, "cleaning" the fat through a centrifugation process, and injecting it into the lips for a very natural looking enhancement. When you come in for your private consultation, Dr. Branman will discuss your options with you and help you make the best choice for you.
Do lip injections hurt?
Your lips are a very sensitive part of your body, and there will be some discomfort when you're receiving an injection. Most of our patients report that the process is tolerable, though some experience more pain than others.
If you've chosen a Juvéderm filler for you lip enhancement, these products include an anesthetic (lidocaine) in the formulation. This can help increase comfort during the process, but depending on how much product we're injecting and your personal threshold, we may recommend additional numbing, either through icing the skin or using an anesthetic.
While we can't say how treatment will feel to you specifically, we can promise that it will be over before you know it! Most lip enhancement appointments take just a few minutes—and our patients claim it is well worth the end result.
Will my lips swell after lip injections?
It's totally normal and expected for lips to swell after having lip injections—just like any other part of your body would react to an injection. While we use very thin needles and only inject products that are proven safe, the human body reacts to any "injury." Basically, your lip injections have jump started your body's natural healing response.
The good news is that because there is very little trauma to the body with lip injections, you can expect swelling to go down over the course of a day or two. Apply ice to the area as directed by provider to help speed the process up and provide relief.
How long do lip fillers last?
Typically, lip fillers last anywhere from a few months to a year, depending on the product. Juvéderm lip enhancement formulas usually last between six months to a year, while Restylane will wear off around the four to six month mark. Fat transfer lip augmentation can last several years.
The experience of your provider combined with the quality of the product being used is essential to both getting a great result and ensuring you are safe.
Because your mouth gets quite a workout day-to-day, you'll need to have maintenance treatments every few months to keep your results. Otherwise, the lip filler will slowly be absorbed by your body over time, and your natural lip size and shape will return.
How much does lip augmentation cost?
That depends on the type of product used and how much is needed to provide you with the result you want. On average, you can expect to pay somewhere between $500 – $1,000 per treatment—but the best way to get an exact number is to consult with a Little Rock cosmetic surgeon about your options.
Are lip fillers safe?
We've come a long way when it comes to lip enhancement, and modern lip fillers are formulated with natural products, such as hyaluronic acid, that have long been proven safe and effective. As long as you are working with an experienced, credible provider who only offers FDA-approved lip fillers, your risk of complications is negligible.
While we can't guarantee how treatment will feel to you specifically, we can promise that it will be over before you know it.
Side effects from lip fillers are typically minimal, including slight swelling, bruising, and tenderness at the injection site.
Who should I choose for lip injections?
When looking for a provider to safely enhance your lips, be sure you are choosing a cosmetic surgeon or aesthetician working under MD supervision. Additionally, make sure they are using products that have been FDA approved for use in the lips, are transparent about products, and are working in a sterile environment. The experience of your provider combined with the quality of the product being used is essential to both getting a great result and ensuring you are safe.At our cosmetic surgery practice in Little Rock, we only use FDA-approved injectable lip fillers or your own fat to enhance lip fullness. Injections are administered by our board certified cosmetic surgeon, Dr. Rhys Branman, or one of our highly experienced medical aestheticians. If you're in the area, we'd love to talk to you about your options during a consultation.