You Asked, We've Answered: Top Breast Augmentation Questions
January 16, 2020 - Rhys Branman, MD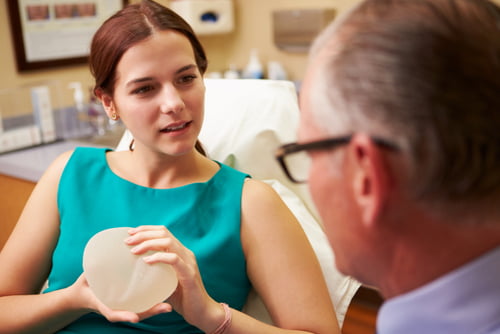 If you're considering breast augmentation surgery, chances are you've already researched things to know about breast implants, such as the differences between saline and silicone implants and how long it will take to recover after breast augmentation. But what about life after breast augmentation–how will your appearance change after the implants? And what happens if you get pregnant? You asked and Dr. Branman is answering! Read his responses to the four most common questions about what to expect after breast augmentation.
#1: How will "dropping and fluffing" affect the appearance of my implants?
"Dropping and fluffing" is a phrase used to describe the process by which an individual's implants settle. Immediately after surgery, you will experience tightness and swelling that can also affect the appearance of your implants. They will sit high on your chest initially and look less natural. As swelling diminishes, your soft tissues will relax to accommodate the implants. The implants will settle lower on the chest wall, increasing lower breast fullness and providing a more natural look. While every patient's recovery time is slightly different, a good rule of thumb is to allow three to six months to reach your final appearance.
#2: What should I expect if I get pregnant after breast augmentation?
Pregnancy does not affect the integrity of your implants. However, both pregnancy and breastfeeding after breast augmentation can change the appearance of your breasts. During pregnancy, every woman's breasts become temporarily fuller, stretching the breast tissue. After pregnancy, or after you stop breastfeeding, the stretched skin will likely cause your implants to sit a little lower on your chest.
The amount of change you see will depend on how much size change you experience and your skin's elasticity. Some women find their augmented breasts look very natural and even more beautiful after a pregnancy; younger women and first time mothers are typically very happy with the appearance of their augmented breasts post-pregnancy. Just as with un-augmented breasts, multiple pregnancies, significant weight changes, and poor health habits will amplify sagging. If you become unhappy with the appearance of your augmented breasts after pregnancy, a breast lift can help to restore your pre-pregnancy appearance.
#3: Do non-surgical breast enhancements work?
Non-surgical breast enhancement creams, pills, and injections have gained popularity in recent years as an affordable alternative to breast implants. However, these treatments are simply not effective. Keep this rule of thumb in mind: "If it sounds too good to be true, it probably is." While some herbal supplements with hormone-like factors (like estrogen) could theoretically firm up the appearance of your breasts, this enhancement would be temporary with no real benefit. Avoid wasting your time and money!
#4: Should I worry about my breast implants leaking?
While leaking is possible, it is rare. If you have saline breast implants, they will deflate quickly and the body will absorb the harmless saline solution. A "leak" from the newer silicone-based implants won't truly leak into your system, as they are now made from a very thick, semi-solid silicone. A silicone gel implant rupture can only be detected via an ultrasound or MRI. In this case, you may notice unexpected tenderness or a slight change in appearance. In general, thanks to advances in breast implant technology, the risk of implant rupture after breast augmentation is very low.
Do you have more Little Rock breast augmentation questions? Contact us today to schedule your personal consultation with Dr. Branman!