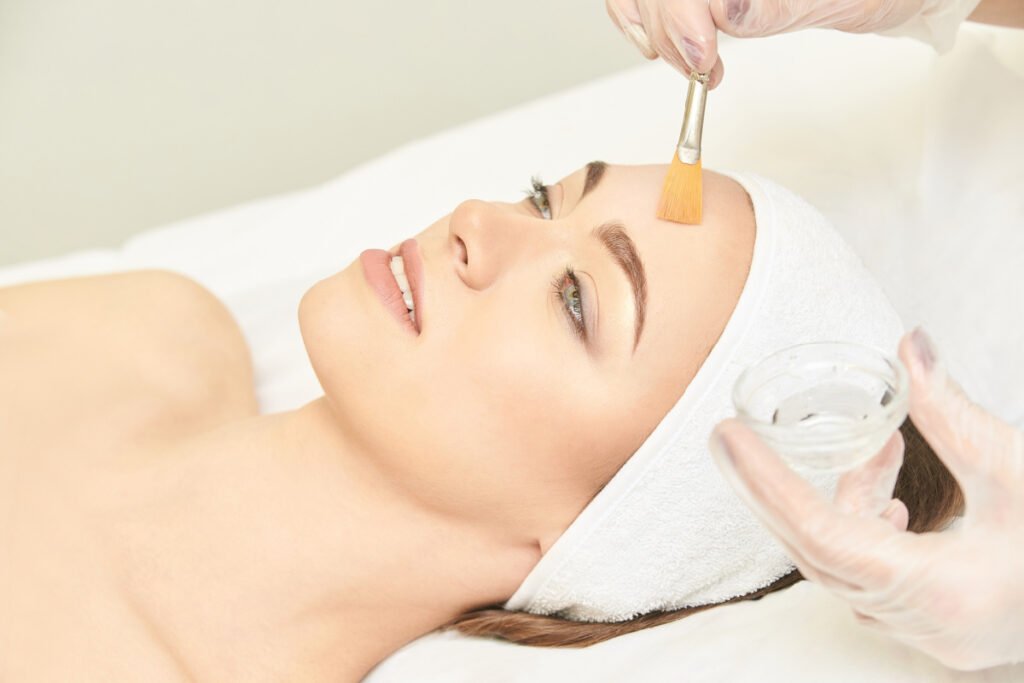 Chemical peels are our licensed aesthetician's go-to exfoliating treatment for a long list of skin concerns. But chemical peels are not one-size-fits-all! Whether you want this treatment because of enlarged pores, wrinkles, or even dry skin, the ingredients in your peel should be fine-tuned, and you'll have a different healing experience depending on the grade of peel.
At our Little Rock med spa, we offer 4 types of medical-grade chemical peels. Below, learn which is right for you based on your skin concerns.
1. You have signs of aging, like fine lines and wrinkles
Ready for a younger complexion? You will benefit from the Smart TCA Peel if your main concerns are:
Fine lines
Wrinkles
Discoloration
This anti-aging peel is powerful, and your skin may peel afterward for up to 7 days. But if you are prepared to avoid the sun and take some downtime, the rewards of the Smart TCA Peel are visibly smoother fine lines and wrinkles and improved skin tone and texture. This is a great peel to be used with injectables; they can help you 'double down' on treating signs of aging.
After treatment, stay out of the sun for 5-7 days as your skin undergoes the peeling process, and follow your aesthetician's instructions for wearing moisturizer and sunscreen. For optimal results, we recommend scheduling a series of 3 Smart TCA peels spaced approximately 28 days apart.
2. You want a powerful pick-me-up for your skin
The Maintenance Peel (also called an AHA chemical peel) with 30% glycolic acid is perfect if you want a general improvement, or your main concerns are:
Fine lines
Dull skin tone
Dry skin
Occasional breakouts
The Maintenance Peel sloughs off your outer layer of skin and promotes production of collagen, the protein that gives your skin a plump, smooth appearance. This is a great peel to add to your skincare regimen if you are simply looking to keep your skin bright and healthy, and to age more gracefully. Routine treatments with the maintenance peel may also help to diminish the appearance of certain kinds of acne scars.
If needed, we can customize your peel formula to address uneven pigmentation. You may experience zero downtime or up to 3 days of peeling before your skin shows full results.
3. You have oily skin, acne, and/or enlarged pores
If you have acne-prone skin, do not despair! We have a peel that penetrates deep to stop the next cycle of acne before it starts. Choose the Clear & Clean Peel if you want to correct:
Clogged, enlarged pores
Acne blemishes
Rough or dry texture
Uneven skin tone
This peel cuts through clogged pores with oil-soluble salicylic acid, helping to minimize acne blemishes and prevent breakouts. Consider scheduling this highly effective peel at regular intervals to help maintain clearer skin long-term!
You may have anywhere from zero downtime up to 3 days. Follow your aesthetician's advice for caring for your skin after treatment, and be sure to follow up your peel with an at-home regimen using medical-grade skincare.
4. You have sensitive skin, or you need to look your best ASAP
No time for downtime? The Glow and Go Peel is ideal if you prefer a less comprehensive treatment in order to avoid the downtime. It's also the peel we choose for patients who have sensitive skin and need a gentle peel that will address:
With 2% lactic acid as the active ingredient, this gentle peel won't cause visible peeling. Still, your skin will benefit from a deep, medical exfoliation, leading to a glowing, more beautiful complexion that you'll be ready to flaunt in no time at all!
Life hack: Glow and Go Peel + Microdermabrasion
Our aesthetician loves the results from a combination treatment with microdermabrasion and the Glow and Go Peel. Microdermabrasion is a physical exfoliation that sets the stage for your chemical peel to penetrate deeply, so combining these treatments gives you even softer, smoother, and brighter skin than you would have with either treatment alone.
Ready to give your skincare routine a medical-grade boost?
At Exhale the Med Spa at Little Rock Cosmetic Surgery Center, we offer medical-grade skin treatments and skincare products to help you maintain glowing skin year-round, no matter your age or unique skin concerns. To get started, request info via our online contact form, or call us at 501.227.0707 to schedule your personal appointment with our aesthetician.