What You Can Buy with the $779 You Save from the Breast Special Ever
May 5, 2022 - Rhys Branman, MD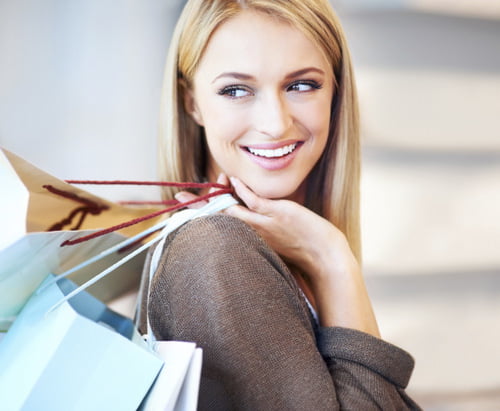 Right now, we're offering one of our most popular specials of the year: our "Breast Special Ever"! When you schedule and pay for your breast augmentation procedure this January, you have the opportunity to save up to $779 on saline and silicone breast implants. With savings this big, you can be extravagant elsewhere.
Here are just a few ideas for how you can spend that extra $779.
Option 1: New Curves + A New Look to Match
With the money you save on your breast augmentation, you can pick out a new look dedicated to complementing the new you. From lingerie to the perfect necklace for enhancing your décolletage, there are a number of items that can help you look and feel your best.
For $779 you can purchase the best brands for your new bod:
Accentuate your shape with the perfect shirts. Plan to spend around $200 on a few new tops that flatter your new breasts. We suggest purchasing a v-neck or scoop-neck that subtly highlights the shape of your new breasts. Also, go for a fitted shirt—it will show off all of your beautiful curves.
Rock your perfect proportions with well-fitted pants. Complement your lower body with a few new pairs of jeans or slacks that hug all the right places. We suggest grabbing a pair of stretch black slacks in a slim fit, plus a versatile pair of jeans to keep you looking casually cool.
Feel great from top to bottom with new lingerie. One of the most exciting items you can buy after having breast augmentation is a new brassiere—and great bras are not cheap. Expect to spend about $150 on a few new bras and $100 on new underwear to complete the ensemble, totaling $250.
Change up your hair and makeup for an overall updated look. Refreshed makeup and an updated haircut (or color) are great ways to complete your new look. Being bold and going out of your comfort zone can make you feel like a new woman, and MAC Cosmetics has loud, beautiful products that will help you stand out. For more subdued but equally beautiful styles, try products from high end lines such as Clinique. Plan to spend $100 on new lipstick, eyeshadow, blush, and eyeliner. While you're at it, stop by the salon for a blowout or styling. We suggest heading over to Just Blow for a quick blowout, a glass of wine, and perhaps an eyebrow waxing for around $75.
Bonus: If you're looking for the best local boutiques in Little Rock, we love B. Barnett and Fringe Clothing.
Option 2: Plan a Special Valentine's Day Trip
We all need time to reflect and relax with those we love. Use the money you didn't spend on your new figure for a much needed vacation—whether you're coupled up or flying solo, getting away for a bit can make a huge difference.
For $779 you can purchase a wonderful trip:
Take that tropical vacation you've been dreaming of. It's time for a much needed vacation! Toward the end of winter, you may want to warm up somewhere with crystal clear water and warm sand. To head to Cancun, you'll spend around $400.00 roundtrip per person. Once there, there are plenty of affordable accommodations so you can spend the rest of your budget on a flattering new swimsuit!
Plan the ultimate "staycation." If you'd rather stick closer to home, $779 will be more than enough for you to pack in lots of great activities. The first step to the best staycation is stepping out of your normal surroundings. Book a room in one of our great Little Rock hotels for a touch of luxury (we love the historic Capital Hotel or the Robinwood B&B). From there, spend your time soaking in some much needed relaxation, or check out what's going on in Little Rock to fully experience your town.
Option 3: Refresh Your Surroundings
Change is good—and doing something you've always wanted but kept putting off is a great way to revitalize your life. You've already taken a big step by choosing breast augmentation, why not also enhance your environment? Dust off the shelves, add some paint, change the curtains, and refresh your sanctuary.
For $779 you can purchase these great supplies for a bedroom makeover:
A fresh coat of paint is a great way to spruce up a room. Plan on using at least two or three gallons of interior paint for a single bedroom. This will cost around $90. Not a fan of painting? Add $250 to your bill to have a professional lend a hand, bringing your total to around $340.
Update decor and window dressings for a whole new look. Head over to At Home or Pottery Barn in Little Rock to discover a wide range of possibilities for your new home design. Purchase new curtains, new bedding, and new shams—after all, you'd still have about $439 to spend!
Find Out More: Schedule Your Consultation
In sum, now's a great chance to have the best of everything: the curves you want provided by a highly trained, experienced cosmetic surgeon at an irresistible price. Did we mention we also offer financing, and patients rave about our friendly staff?
Contact us to find out more about breast augmentation at Little Rock Cosmetic Surgery Center. Dr. Branman would love to meet with you for a personal consultation to discuss your options—together, you can design the perfect treatment plan for achieving your ideal curves.