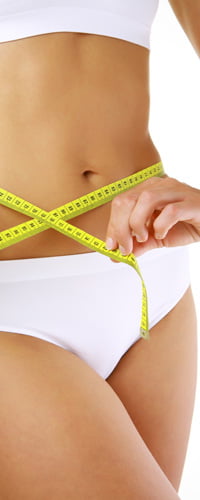 It's that time again when we make the classic New Year's resolution to lose weight. Many people make this resolution year after year and yet just cannot seem to keep it. Many people make this resolution with an eye to later having liposuction or a tummy tuck or other cosmetic procedures. Some people want to lose weight before a facelift. This is actually a very good idea. As you know, liposuction is not a weight control method but is to remove tough pockets of fat that you cannot lose through diet and exercise. If you have had bariatric surgery or lost a large amount of weight any other way, a lower body lift or tummy tuck might be in order. However, you must lose the weight first. And of course you have all probably heard the old saying, "Keep your figure or your face." This is because you lose fat in your extremities first and when you lose fat in your face, the wrinkles show. So how can you keep the New Year's Resolution to lose the unwanted fat?
Experts suggest several tips for sticking to weight loss plans:
Plan in advance & make contingency plans too. Set a date to start. Shop for the healthy foods you plan to eat before that date so you don't have junk food or high calorie/low nutrient food in the house on the day you plan to start. Assume you will backslide occasionally by eating out at a restaurant or experiencing a lack of motivation to work out some days. What will you do? Make a list of ways to motivate (call a friend to take a walk, run with your dog, promise yourself a reward if you work out when you don't want to). Make a list of rewards for that matter! You also might want to find restaurants that serve low calorie, healthy food in advance.

Be realistic. Don't starve yourself or imagine you will do more exercise than your time and state of fitness allow for at first. Plan on losing 2 pounds a week. In most cases if you lose more than 2 pounds a week you are losing muscle, not fat. Muscle weighs more than fat and needs more calories to be maintained. Also increasing your muscles helps you burn more calories at rest! So include aerobic and anaerobic muscle building exercises in your workout regime. Expect to lose about 8, maybe 10, pounds a month. That is realistic.

Reward yourself & skip the self punishment when you backslide. Women have told me about the famous Elizabeth Taylor diet: 6 days on, 1 day off! Not only will this feel like a reward, but upping your caloric intake one day a week tricks your metabolism into thinking you are not starving. After a while, you will not be able to so much on that day off, because you are used to less! This might help you avoid those plateaus when you just cannot seem to lose another pound. But do realize they may occur and often this is just before a larger fat loss.

Keep it up! Working out just a few times when you really don't feel like it can reinforce yourself discipline. It usually takes a month for an exercise regime to become a habit. It takes about 6 months for it to become a normal part of your life. So take it one day at a time keeping this in mind. Even if you backslide a whole week, you can start over. Don't tell yourself you failed; assume this part of your process.
When you have attained your goal, you may want to reward yourself with that cosmetic procedure that will enhance all of your hard work! Be it 6 months or a year later, that's the time to give us a call at Little Rock Cosmetic Surgery Center to set up your consultation.
Dr. Branman
Please call Melinda to set up your consultation 501 227-0707