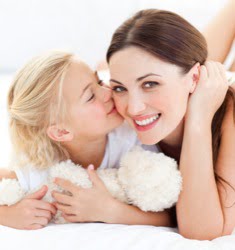 As a mom, you're probably thinking, "I barely have time to wash my hair in the morning, much less time to recover from cosmetic surgery." But if you're unhappy with the changes that pregnancy and childbirth have had on your body—deflated breasts, loose skin & tummy muscles, or stretch marks—pause for just a minute and hear us out.
By combining breast augmentation or lift with body contouring procedures such as tummy tuck or liposuction, a mommy makeover can help you get your desired body back the way you want it. While you will need to take some time out from your normal busy schedule to recover, thousands of women have mommy makeovers each year, even with small children at home.
In fact, many choose to have multiple procedures at once to save time in the long run—one operation means one recovery process. And the payoff is great: you'll start every day feeling more confident and happier with your body, and that doesn't even require putting on makeup or a special outfit. That mom who always seem to look great in sweats? That could be you. All it takes is some smart planning and a little knowledge about what to expect:
Consider your first week or so after surgery a complete "vacation" on the couch. During your initial recovery, you'll need to rest and recuperate. Before you schedule surgery, arrange for a trusted adult to stay with you and stand in for your family duties for at least 3-7 days after surgery, more if you're having a tummy tuck. This is a great time to have grandma come for a visit and lend a helping hand. Your cosmetic surgeon can tell you how long you'll need help around the clock.
You'll need extra help with your kids for the first few weeks after surgery. Most mommy makeover procedures require that you refrain from heavy lifting after surgery—this includes infants and toddlers. Usually, this means about 2 weeks after breast augmentation and up to 6 weeks after a tummy tuck. Don't worry—cuddling on the sofa together and reading favorite stories is totally allowed!
Be strategic about scheduling your surgery at low-stress times. If your children are a little older, summer can be the perfect time for a mommy makeover, while they're away at camp and you don't have to work out the logistics of school, daycare & sports.
Wait until your family is complete to enjoy the best results. Since a mommy makeover targets the areas that pregnancy isn't so kind to—the breasts, tummy and hips—future pregnancies can reverse some improvements. Also, we typically recommend that patients wait until they've finished breastfeeding and have reached a stable weight before having a mommy makeover.
There's no need to continue feeling unhappy about your appearance if it's affecting your self-confidence. If you'd like to restore your pre-pregnancy shape (or even improve upon it a little), contact us for a consultation. Together my staff—most of them are moms themselves—and I will help you weigh your options and decide if the time is right for you.