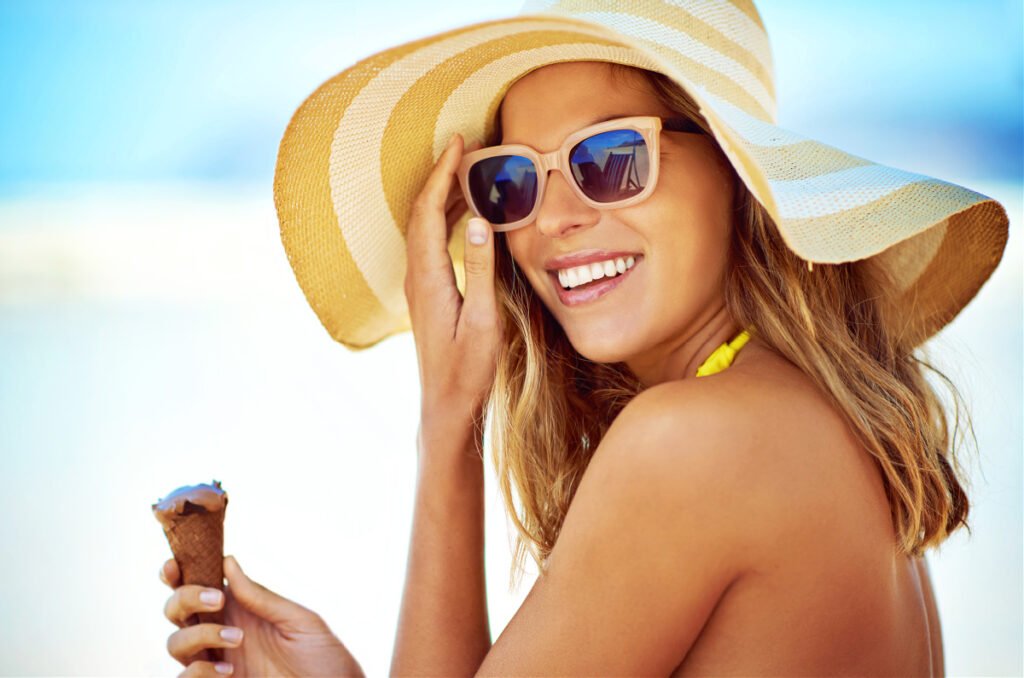 If you're like us, you are looking forward to the best summer ever. So why not seize the day to be your most fabulous self, inside and out? Start your summer glow up using this checklist, with tips for maintaining gorgeous skin and full-body wellness, including giving yourself permission to get the procedure you've always wanted. Take our advice—you'll shine all summer long!
1. Use this time to find an SPF that works for you
While the best part of summer is fun in the sun, too much solar exposure leads to early signs of aging (hello, fine lines!) and increases your risk of skin cancer—no matter your skin tone, type, or age. This means that the most important step to a healthy summer is protecting your skin.
Find the sun protection that works for you. You can protect your skin with UV-blocking clothes, swimwear, umbrellas, and—most importantly—with sunscreen. A broad-spectrum SPF of at least 30 should be used about 30 minutes before heading out into the sun, and reapplied every 2 hours.
At our office, we love the Colorescience® line of sun-protecting makeup and lip products, as well as the sun-blocking lotions, sprays, and tinted face creams from Elta MD®. Investing in a product that you love makes reapplying a no-brainer!
2. Remove unwanted hair with laser hair removal
Tired of repeatedly shaving and waxing unwanted body hair? Embrace that you're going to be spending plenty of time in body-revealing clothes and swimwear this summer, and spring for laser hair removal. Full treatment of unwanted hair requires around 5-6 sessions over the course of a few months, so contact us to get started now.
3. Start regularly exfoliating your skin
In the winter, cold temperatures and dry air can be harsh on your skin, exacerbating your outer layer of dead skin cells. Exfoliating is an important part of cell rejuvenation, as it helps remove glow-concealing dead skin cells (which can stick around and clog pores) and allows your skin to regenerate new ones.
Exfoliation isn't just good for your face, but your body and scalp as well! Exfoliate from head to toe a couple of times a week using either physical exfoliants or chemical exfoliants:
Physical exfoliants contain small beads, salt, or other coarse ingredients that physically buff the surface of your skin. (Just don't overdo it, as you can actually damage your skin!)
Chemical exfoliants use active ingredients like alpha hydroxy acid to chemically remove dead skin cells. If you do reach for a chemical exfoliant, apply it at night, as exfoliating active ingredients can make the skin more sensitive to the sun.
To get your face summer-ready, we recommend starting fresh with a medical-grade exfoliating treatment. This is particularly important when it comes to the sensitive skin of your face: common, harsh exfoliants such as apricot kernel scrub should be avoided in favor of these safe options that work for many different skin types:
HydraFacial MD®. A quick fix for a dull complexion, the HydraFacial uses a tiny water jet stream to cleanse and extract impurities to leave you instantly radiant.
Dermaplaning. In this gold standard professional exfoliation, your aesthetician uses a scalpel to remove peach fuzz and the top layer of skin to leave you glowing and bright.
Chemical peel. A time-tested procedure for glowing, clear skin, a chemical peel uses skin-safe chemical exfoliants to renew your skin and promote healthy cell turnover.
For best results, follow an at-home skincare regimen that includes antioxidants, sunscreen, and gentle routine exfoliants. When you visit us for your appointment, we can design a tailor-made skincare regimen to support your skin's health.
4. Establish a solid sleep routine
Don't skip out on your beauty sleep! Longer days and a full social calendar can interfere with our sleep schedules, so take the time to find a sleep regimen that works for you. Studies show that the benefits of a full night's sleep include improved mood, better health, a stronger immune system, and a healthy weight. It can take some time and dedication to build a new habit, so try a sleep app to keep you on track.
5. Treat yourself to a cosmetic procedure
Summer is the time of the year to flaunt your body! We are here to help you feel confident in the ways that are meaningful to you. For many of our patients, tummy tuck and/or breast augmentation open the door to feeling comfortable in a swimsuit.
If you would love to confidently flaunt your abdomen, a tummy tuck can tighten weakened abdominal muscles and remove loose skin from the abdomen. Worried about wearing a bikini after your procedure? Don't be—Dr. Branman strategically places your incisions so that any scarring is hidden under a swimsuit. And with time and diligent care, surgical scars typically fade to be nearly invisible.
Hoping to fill out your bikini a bit more? Breast augmentation is one of the most popular plastic surgeries in the United States. At Little Rock Cosmetic Surgery Center, we offer both saline and silicone implant options, and your procedure will be completely customized to give you the shape and fullness that you desire. It is important to keep in mind that you should wait around a month after breast augmentation before swimming, so make sure to plan accordingly.
Visit Little Rock Cosmetic Surgery Center for all your cosmetic needs
Book your consultation with Dr. Rhys Branman or your treatment at Exhale Med Spa now to stay ahead of pool season! Call Little Rock Cosmetic Surgery Center at 501.227.0707 or contact us online.