Why You Need to Stop Smoking Before Your Cosmetic Surgery Procedure
November 13, 2020 - Rhys Branman, MD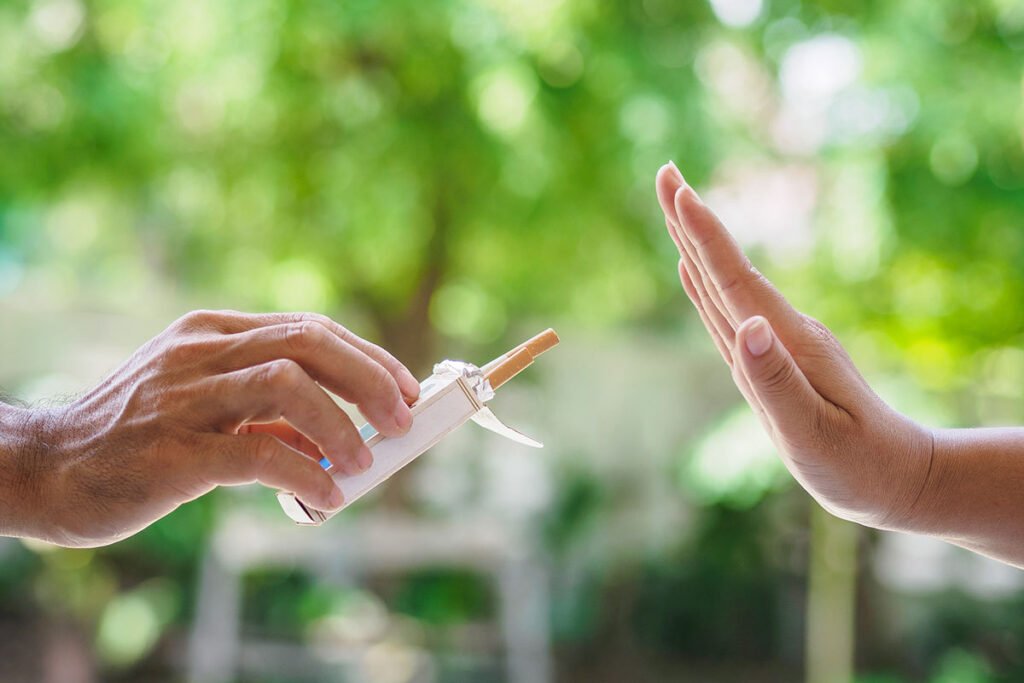 Every third Thursday in November, thousands of Americans refrain from smoking for at least 24 hours in what is called the Great American Smokeout. In recognition of this year's event on November 19, I've decided to take a moment to explain the risks of smoking while undergoing cosmetic surgery. Whether you would like to quit smoking long-term or just for your procedure, this post will explain how nicotine and carbon monoxide affect your body, and why it is so important to refrain from using all nicotine products (including smoking, vaping, and using smokeless tobacco, nicotine gum, and patches) before and after your cosmetic surgery.
Here's what I'll go over in this post:
Smoking reduces your body's capacity to heal
Your body needs adequate blood flow to heal itself. Smoking shrinks your blood vessels, preventing your blood from flowing properly and cutting off oxygen to your tissues, a process known as vasoconstriction. In addition to impacting your blood flow, smoking reduces your body's ability to produce collagen—a key factor in wound healing—and can even lead to infection post-surgery.
Nicotine is the real culprit
It is not just smoking tobacco that affects your blood flow; nicotine—the highly addictive chemical found in cigarettes, cigars, and hookahs—is sold in many forms including vapes, smokeless tobacco, and nicotine patches and chewing gum, and inhibits blood flow, leading to a variety of operative and post-operative complications.
Smoking can cause blood clots
Nicotine causes your blood vessels to shrink, and the carbon monoxide you inhale while smoking reduces oxygen levels in your blood and your cells, a condition called hypoxia. For these reasons, smoking can cause blood clots, which affect your body's ability to pump blood to your organs. Blood clots not only impair your body's ability to heal by blocking blood flow, but they add a layer of risk for surgeons performing surgery.
It is important that you stop smoking and using nicotine products at least 6 weeks before and after your cosmetic surgery in order for you to stay healthy and get the best results from your surgery.
Smoking can damage your skin
According to the Mayo Clinic, "Aside from age, smoking is the strongest predictor of facial wrinkling in men and women." Collagen and elastin are proteins in your body responsible for maintaining your skin's elasticity, and smoking can break these proteins down over time, causing your skin to sag and wrinkle. Smoking also reduces the amount of vital nutrients, like Vitamin A, your skin receives.
In terms of surgery, less collagen in your skin can result in more visible scarring and can lengthen your skin's healing process.
Nicotine can affect how your body reacts to anesthesia
As I've mentioned, smoking causes carbon monoxide to enter the bloodstream, which reduces your blood oxygen levels and makes it more difficult for your heart and lungs to work while you're under anesthesia.
Which surgeries are the riskiest for smokers?
Smoking is especially risky for the following surgeries because they require significant blood flow for healing:
If there is even a small amount of nicotine in your bloodstream, your heart has a harder time pumping oxygen and nutrients through your blood to your skin, which can result in scarring and even death of skin and fat cells (necrosis).
How long do I need to quit for?
It is important that you stop smoking and using nicotine products at least 6 weeks before and after your cosmetic surgery in order for you to stay healthy and get the best results from your surgery. We want to make sure your surgery goes as smoothly as possible, and we need you to be healthy to help make that happen.
Not ready to quit smoking? Let's make a plan
During your consultation, be completely honest with your surgeon about your nicotine use. Board-certified cosmetic surgeon Dr. Rhys Branman and his professional staff at Little Rock Cosmetic Surgery won't judge you for smoking or using nicotine before your surgery, but they will help you reschedule your surgery for a later date. This is to keep you safe and ensure you get the best possible results from your procedure. Contact us online or call us today at 501-227-0707 to schedule your personal consultation.