Should I Try the New RHA® Collection of Designer Fillers?
May 19, 2021 - Rhys Branman, MD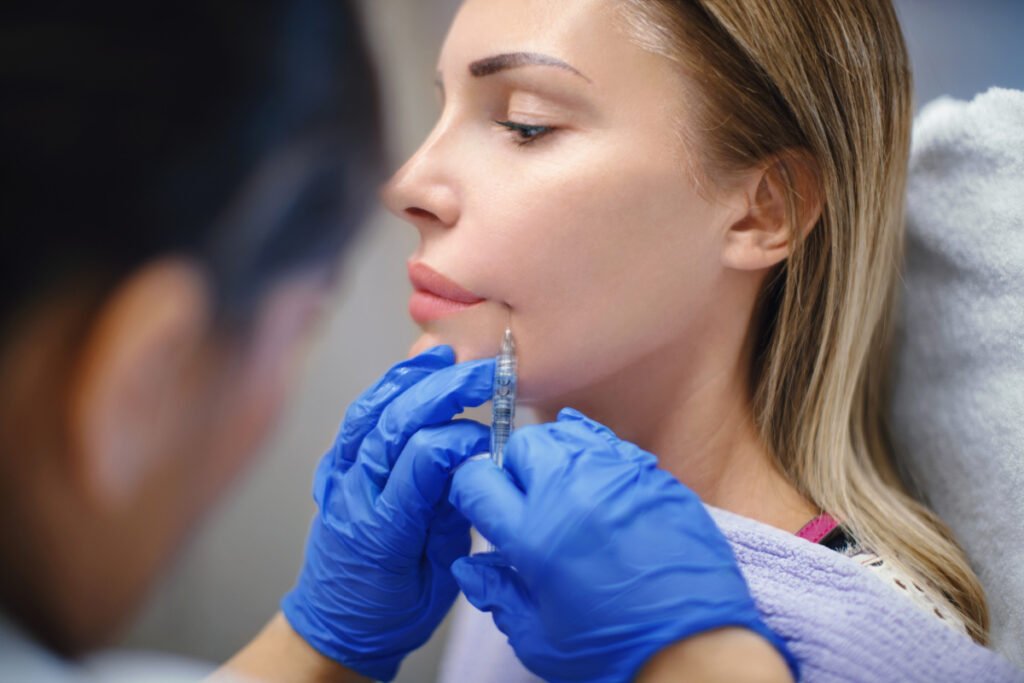 The new Revance RHA® Collection of dermal fillers offer a new approach to the aging face: This collection of 3 fillers is FDA-approved to smooth dynamic wrinkles, like the lines that form around the mouth as we smile. This is the first filler that's proven its ability to improve wrinkles in areas we move all the time, filling a gap in our arsenal between BOTOX® and existing dermal fillers.
Beyond staying flexible in motion, the RHA line has also been called a "clean injectable" and a "designer filler," but you may wonder if what's in the syringe is really worth the hype. As one of the first practices in the United States to offer the collection, we have answers to all your RHA questions.
What does RHA stand for?
RHA stands for "Resilient Hyaluronic Acid," meaning that the hyaluronic acid formula retains its integrity better after being stretched, bent, and compressed. RHA undergoes a different, gentler manufacturing process than other hyaluronic acid in fillers (like Juvéderm® and Restylane®), creating a long-chain formula that resembles the natural HA found in your body. This resilience helps it better adapt to your facial movements and last longer (up to 15 months) once injected.
What is the new RHA Collection of dermal fillers?
RHA-based fillers have been used since 2015 in Switzerland, where they are manufactured by a company called TEOXANE. In the United States, the RHA Collection is distributed by Revance Therapeutics, and it includes 3 different currently available fillers—RHA 2, RHA 3, and RHA 4. Each filler is formulated differently:
RHA 2 is a highly resilient, stretchy formula that is ideal for moderate wrinkles, such as moderate nasolabial folds.
RHA 3 is equal parts resilient and strong, meaning that it has a thicker formula for building up volume to smooth more severe wrinkles.
RHA 4 is the strongest formula with the least amount of stretch. It is specifically formulated to be injected deep into the skin for smoothing deep folds and rebuilding significant lost volume.
How is resilient hyaluronic acid (RHA) filler different from other hyaluronic acid fillers?
RHA differs from other currently available fillers in three main ways:
The most notable difference is that the RHA Collection is FDA-cleared to treat dynamic wrinkles (versus simply replacing lost volume like other fillers). In the past, only neurotoxins like Botox and Dysport® were specifically FDA-approved for treatment of dynamic wrinkles.
Because of its long-chain hyaluronic acid formula, RHA filler may last up to 15 months, where most other HA filler dissolves after about 12 months.
Due to the formula's closer resemblance to natural HA, RHA filler may lead to less post-treatment swelling in some patients.
Is RHA filler a substitute for Botox?
RHA is not a substitute for Botox, as it works differently. While both may help to smooth dynamic wrinkles, RHA filler smooths wrinkles by rebuilding lost volume in your tissues. This means that you will still have the same, animated facial expressions, but with lines smoothed out and folds made gentler and more youthful. Injectable neurotoxin, like Botox, stops dynamic wrinkles by limiting the movement of the muscles that create the wrinkle.
When is RHA preferable to Botox?
RHA may be preferable to Botox for those who want much longer lasting results (a maximum of 15 months rather than 4 with Botox), as well as those who are reluctant to use Botox or have a need to retain a full range of facial expressions. But, rather than choosing one or the other of these products, consider using both: RHA's special qualities can help us create more complete results when it comes to treating dynamic wrinkles.
Why is the RHA Collection of fillers considered to be "clean" injectables?
The chemistry behind these new fillers is slightly different from other hyaluronic acid-based fillers. The molecules of HA undergo a gentle manufacturing process that results in a formula that mimics the natural HA found in our skin. While the main purpose of this difference is functional—it helps the filler last longer and move better—it has the added benefit of seeming a bit more natural.
While you may hear that these fillers are "clean," the difference between how natural these fillers are compared with others is small. We encourage our patients to work with their highly qualified, experienced injector to choose an injectable that is most likely to achieve the results you want, whether it's a Botox-type injectable or hyaluronic acid-based filler. Each injectable works differently, and each patient's unique anatomy dictates which products work best to treat signs of aging.
What are dynamic wrinkles, and how are they different from static wrinkles?
Dynamic wrinkles are those that form whenever your face is animated. These wrinkles form during repeated facial movements, like smiling, frowning, laughing, and crying. Examples include:
Smile lines
Frown lines (glabellar lines in the mid-brow)
Forehead wrinkles
Crow's feet
Lip lines (above the upper lip)
"Bunny lines" in the top part of the nose
By contrast, static wrinkles are visible even when your face is at rest. (It's possible for dynamic wrinkles to become static if left untreated.) These form as our skin ages, and our bodies replace less of the collagen that makes our skin plump and elastic. Static wrinkles tend to form in these areas:
Below the eyes
Nasolabial folds
Cheek lines behind the smile lines
Marionette lines
Corners of the mouth
Jowls
Neck
RHA filler vs. Juvéderm: Should I switch to Resilient Hyaluronic Acid (RHA) filler?
If you love your current brand of filler and are happy with how your results look and feel, we don't recommend switching. That said, there are a number of good reasons to try RHA fillers:
This new class of fillers is optimized to treat dynamic areas, so if your filler treatment includes a dynamic area such as the nasolabial folds, it may offer improved results.
RHA filler may last up to a few months longer than other fillers.
If you are prone to post-treatment swelling, RHA may help, since the formula closely resembles our bodies' natural HA and creates less of a reaction in some patients.
You may want to try RHA if the idea of a more natural product appeals to you.
When you come in for your injectable appointment, we can reassess your personal treatment plan and let you know if RHA might be a better choice for you.
Can you use RHA and Botox in the same area?
Yes, you can use RHA and Botox in the same area. They help to smooth wrinkles through different means: RHA by plumping the skin, and Botox by relaxing the muscle. Their results complement one another in a few ways:
Botox helps to stop wrinkles from worsening, and can help the filler to last longer by limiting movement in the area.
Botox alone may lead to a smoother wrinkle, but will not replace lost volume in the skin unless you add filler.
After the Botox wears off (after 3-4 months), RHA filler results will remain, for up to 15 months.
Still, instead of injecting them both in the same visit, we space the injections apart. Because RHA filler works instantly, while results from Botox take about 2 weeks to fully develop, we typically inject Botox first, wait for the Botox results to become visible, then treat the area with RHA as needed.
Choose the Little Rock Cosmetic Surgery team for all your injectables
The nuanced choice of which injectables to use depends on both your anatomy and your goals, and the decision should be made in consultation with a highly trained injector. The injectors at Little Rock Cosmetic Surgery are known for their beautiful results: both Dr. Rhys Branman and plastic surgery nurse Leslie Harmon have an expert aesthetic eye and a deep understanding of injectable safety. Call us today at (501) 227-0707 to set up your consultation and learn what the RHA Collection can do for you.