Send Off Summer with One of Little Rock's Best Tours
November 25, 2020 - Rhys Branman, MD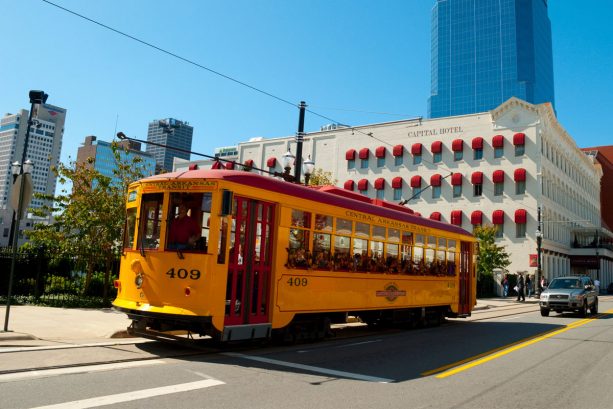 Whether you're a visitor or a long-time local, Little Rock has a ton to offer—and one of the best ways to take in the city is with a one-of-a-kind tour.
Here are a few of our favorites:
See Little Rock from the seat of a bike
See Little Rock from a new angle by bike: Bobby's Bike Hike is a tour service dedicated to getting you outside to enjoy various parts of our fair city, all by bike.
Depending on your mood, you can stick with the more traditional tour of historical neighborhoods—or you can treat yourself and book their "Pork & Bourbon Bicycle Tour" for something a little tastier. If you'd rather take in the sites by yourself, they also offer bike rentals.
Ride the river rail electric streetcar line
Want to take a trip down memory lane? You can always book a tour on the River Rail Electric Streetcar line. You can hop on one of the replica vintage trolleys from a number of hotels and take in the sights at some of Little Rock's favorites, including the Alltel Arena, the Statehouse Convention Center, numerous local shops and art galleries, and restaurants in the historic River Market and Argenta neighborhoods.
Get to know the 42nd President
Did you know you can take a Bill Clinton tour? You can get an up-close and personal look into the life of our 42nd President, including visiting his childhood home, high school, and favorite hang out spot.
Take in the sites from the water
For those who want to relax and soak it all in without lifting a finger (well, except to eat), the Arkansas Queen Dinner Boat is right up your alley! You can enjoy a scrumptious meal while seeing all the sites of North Little Rock by water on a paddlewheel riverboat.
Get to know the local history
If you're looking to experience almost everything Little Rock has to offer in a whirlwind 2.5 hour tour, the Little Rock Sightseeing Tour on the "Little Rock & Roll" bus may be for you. You'll be able to visit the Old State House, The Clinton Presidential Center and Park, Governor's Mansion, Quapaw Quarter historic homes, the iconic Old North Mill, and so much more.
What are some of your favorites sites in Little Rock Arkansas? Let us know in the comment section.