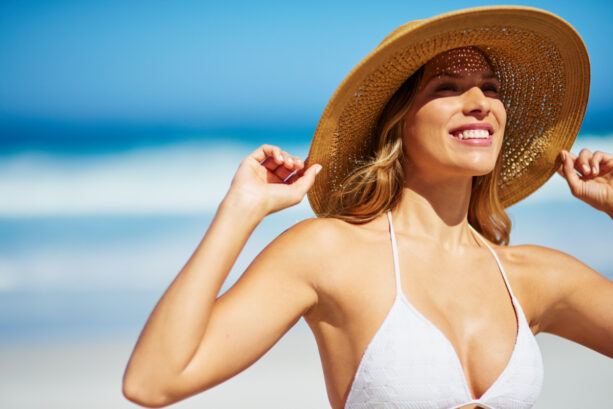 There is no such thing as a "healthy" tan from the sun or tanning beds: the deepening color is actually your body's reaction to protect the skin from DNA-damaging UV radiation. This response accelerates the formation of age spots, wrinkles, and the leathery look and feel of the skin. The good news is maintaining a sun-kissed look does not have to damage and age your skin—self-tanners are a safe way to protect the integrity of your skin while enjoying a deeper glow.
The History of Self Tanners
It wasn't until French designer Coco Chanel was photographed after catching rays on a yacht in 1923 that bronzed skin began to signify wealth and privilege. With the introduction of bikinis in the mid-1950s, tanned skin was not only "in" but people found that the added flush of color was quite flattering as well. Unfortunately, emerging data linking sun exposure and skin cancer was overwhelmed by product advertisements that promoted tanned, "healthy" skin.
Self-tanners made their unofficial debut around the 1940s, but the initial reason for their invention may surprise you: it was reported that during WWII, women used tea bags and Bovril (a meat extract) to hide leg flaws and give the illusion that they were wearing stockings, when rationing and shortages limited access to nylon.
In the 1950s, it was discovered at a children's hospital that Dihydroxyacetone (DHA) can have a tanning effect on the skin; Coppertone seized the opportunity, releasing the first widely-available sunless tanner in 1960. The FDA approved DHA for cosmetic use in 1973. Makeup artists subsequently found ways to improve the look of simulated suntans by using deeper shades of makeup all over the skin, paving the way for spray tans which leapt to popularity in the late 1990s.
While many of these past incarnations of self-tanner weren't known for looking natural, today's self-tanners rely on sophisticated formulas and provide myriad options to address a variety of skin tone and application preferences.
Perfecting Your Faux Glow
At Exhale Med Spa, we are passionate about helping our patients protect their skin from damage and premature aging. Self-tanners like St. Tropez Bronzing Mousse safely allow our patients to enjoy a deeper glow without compromising their skin health. With the help of Crystal Shaffer, our licensed aesthetician, we are sharing the top dos and don'ts of the self-tanning process.
Prepping the skin
Step 1: The key to achieving an optimal glow starts with moisturized skin. Apply a moisturizing lotion every day for a week before you apply a self-tanning product—we recommend one like EltaMD® Moisture-Rich Body Creme to infuse the skin with essential nutrients and provide long-lasting moisture.
Step 2: Shaving and exfoliating a few days before applying self-tanner is critical to avoiding a blotchy appearance. We recommend completing this step three days before you plan to tan to allow enough time for your pores to close and achieve an even application. Choose an exfoliator like St.Tropez Tan Body Polish and Exfoliator to slough off dull skin and increase the longevity of your tan.
Step 3: Shower thoroughly and avoid shaving and exfoliating the day you plan to use a self-tanner. Do not apply any lotions after bathing and make sure your skin is completely dry before applying the product.
Applying self-tanner
Step 4: To evenly apply the product, use an applicator like the St.Tropez Tan Application Mitt for a smooth, streak-free finish without the telltale staining on your hands. Wait 8-12 hours after application to gently rinse off, moisturize, and shave if necessary. If you find it more convenient to apply self-tanner before going to bed, we suggest wearing loose-fitting clothing or adding an extra sheet to avoid transfer onto your bedding.
Preserving your tan
Step 5: Use a moisturizing cleanser instead of an antibacterial soap in the shower to avoid stripping the color. Apply a moisturizing lotion 1-2 times a day after applying a self-tanner. Depending on your lifestyle and how frequently you shower, you'll need to reapply after 5-7 days or as soon as you notice any fading. Regular reapplication will ensure your tan is even and natural-looking. And remember, a good SPF is still an essential part of your daily routine—this SkinCeuticals® tinted sunscreen is mineral-based and safe for all skin types.
Get a Healthy Glow in Little Rock
If you have questions about high-quality skincare products or the best professional spa services, we would love to schedule a consultation with you. Exhale Med Spa at Cosmetic Surgery Center in Little Rock offers patients a warm, personalized experience with the latest in professional cosmetic technologies to achieve healthy, more youthful skin. Request your consultation online or call the Cosmetic Surgery Center at 501.227.0707 to meet our outstanding med spa team.