Round or Anatomically Shaped Breast Implants?
February 26, 2018 - Rhys Branman, MD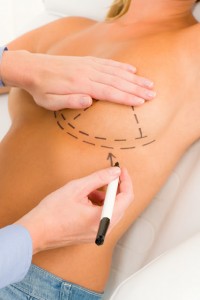 Remember the BREAST-Q? I wrote about this new survey instrument a while back that measured women's satisfaction and quality of life in relation to having breast augmentation. The developer of this instrument has recently published another study to find out if women preferred round or shaped breast implants. Over the years, silicone breast implants have improved. Now-a-days, as a cohesive gel there is much less of a possibility for leakage from a silicone implant. This is how safe the new silicone implants are. So then the question is always what shape. The fourth generation silicone breast implants are often rounder. This type of round gel implants were FDA approved in 2006. These are somewhat cohesive, but less cohesive than the very latest implants approved in 2012 and 2013, such as Mentor's MemoryGel™. Oh, and did you know Mentor is the only company to manufacturer its implants in the United States?
In this study the developer of the BREAST-Q used the questionnaire to compare the scores 65 women who chose round implants and 63 who had chosen anatomically shaped implants of the cohesive silicone gel. All of the women participating in the study had undergone alloplastic breast reconstruction surgery following mastectomies. In other words, these were tough customers; they were survivors. Alloplastic means non-self materials were used, silicone not fat transfer. All the patients that contributed to the study, had the surgery one to four years earlier. Previous studies had shown that women who received silicone implants were more satisfied overall than those who received saline implants. Now the researchers wanted to see which shape of silicone led to more overall satisfaction for women.
The results? The two groups of women reported no difference in rippling, that the anatomically shaped implants were slightly firmer, but in general, there was no significant difference found in overall satisfaction. Satisfaction and health-related quality of life were about the same. Once again shape and type of implant comes down to the choice of the individual woman. This study should give patients more evidence that they will not regret a well thought out decision of which silicone breast implant to choose when undergoing breast augmentation at Little Rock Cosmetic Surgery Center. What is important is to be fitted correctly. I would like to remind you again that petite women may find Mentor's Ultra High Profile implant more comfortable because of its narrower base, which fits a smaller frame better. You always want the back of the implant to conform correctly to your rib cage. Arkansas breast augmentation patients can select from a variety of silicone implants, at Little Rock Cosmetic Surgery Center.
Dr. Branman
Call Melinda at the front desk to set up a consultation 501-227-0707