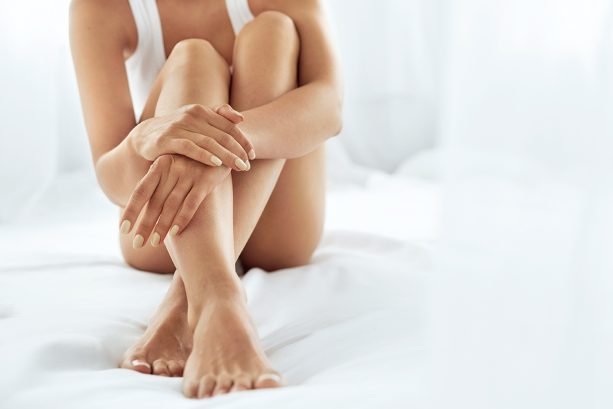 Now that shorts-and-swimsuit season is here, are you remembering what a pain (both figuratively and literally) it can be to deal with unwanted hair? If the idea of shaving your legs, underarms, bikini line, or other areas that are going to see daylight for the next 5 months or so makes you cringe, you might be tempted to spring for laser hair removal.
Having smooth, hair-free skin every day without shaving or waxing sounds dreamy—and our Little Rock laser hair removal patients will readily agree—but before you invest in laser hair removal, it's important to understand what's involved, as well as how to ensure you're getting safe, effective treatment. First, let's talk about reasons why laser hair removal is absolutely "worth it" for long-lasting hair reduction.
So, is laser hair removal worth it?
Laser hair removal is probably well worth the time and investment if you meet one or more of the following criteria:
Need a long-term solution for hair removal so you can quit shaving or waxing
Have a tendency to get ingrown hairs or experience other issues with traditional hair removal methods
Need to get rid of hair in areas that are hard to maintain
Have hair that grows back quickly and/or is very noticeable and requires a lot of maintenance
Want to maintain a smooth look year-round
Are too busy to spend time on ongoing hair maintenance
Want to avoid the pain of waxing
Foresee your waxing costs will add up over time and exceed the cost of laser treatments
Additionally, you should be:
Ready to invest in a series of treatments
Able to commit to visiting your cosmetic surgeon's office every month or so for four to eight months
A good candidate for treatment (see below)
Want more thoughts on the pros and cons? SELF magazine recently published a good overview; we encourage you to read it if you're weighing laser hair removal vs. waxing vs. electrolysis.
To make your treatment worthwhile, make sure you understand these important points.
Choose your provider carefully; this matters most! Double-check that your provider is licensed, experienced, and specifically trained in laser hair removal. Unfortunately, we've seen patients who have sustained burns and scars after having laser hair removal from poorly trained technicians.
Laser hair removal is an investment, but it pays off quickly! Depending on the area(s) you wish to treat, you might be looking at $100 or more per treatment. But compare the cost to a lifetime of buying razors or waxing appointments, not to mention the cost of the time spent shaving every day. Luckily, you have options to make laser hair removal affordable, including cosmetic surgery financing.
Plan on three to nine months before having hair-free skin. Hair follicles must be treated while they're in the growth phase, and not all follicles are on the same schedule. For most patients, this translates to having three to eight treatments, spaced four to six weeks apart. Before embarking on laser hair removal in the summer, understand that you will still have to shave for a while longer, although with decreasing frequency as the hair becomes more sparse with each treatment. You also will have to be religious about applying SPF to the treated skin. With this in mind, you might consider waxing now and starting laser hair removal in the fall.
You will get the best results if your hair is darker than your skin, i.e. blonde or grey hair is very hard to treat. While our practice and select others offer advanced laser technology that is safe and effective for a broad range of light and dark skin tones (i.e., Nd:YAG laser), your hair still needs to be somewhat darker than the surrounding skin so the laser can "find" it. The greater the contrast, the better. While dark hair on brown skin can still get very good results, dark hair on fair skin gets the best results.
Still on the fence? We'll help you decide if laser hair removal is worth it for you at a personal consultation.
The best way to determine if laser hair removal is right for you? Meet with an experienced cosmetic surgeon and/or laser professional.
At Little Rock Cosmetic Surgery Center and Exhale MedSpa, we offer both laser hair removal and waxing. Both are very popular treatments with high patient satisfaction rates—it comes down to what option is best suited to your skin and hair type, your budget, and your personal preferences. We'll be happy to help you weigh your options and devise a personalized plan for you. Call 501-227-0707 to get started!