Thinking of Changing Up Your Skincare Routine? Here's Our Guide to Creating a New Skincare Ritual.
January 18, 2023 - Rhys Branman, MD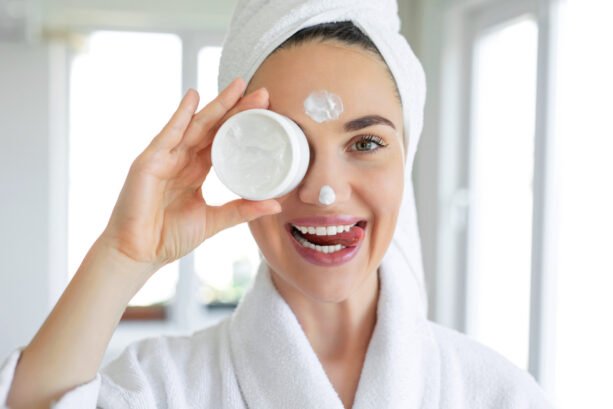 With winter quickly approaching in Little Rock, it's important that you have a skincare plan in place to prevent the dryness, redness, and irritation associated with the colder months. If you haven't thought about upgrading your skincare routine yet this season, don't worry—these products and tips will leave your skin looking youthful and radiant through all of winter's toughest challenges, just in time for the holidays!
Suffering from maskne? Wash your face masks
Like any good routine, ours starts with a little prevention. If your face hasn't reacted well to wearing masks over these past few years (let's face it, whose has?), you can help prevent maskne and inflammatory breakouts by wearing masks made of a natural, breathable fabric, like cotton, and washing them with hot water between uses to eliminate bacteria.
Reinforce your skin barrier
If you find your skin experiences chronic dryness, it is essential that you maintain a healthy skin barrier with a high-quality daily moisture. We love SkinCeuticals® Triple Lipid Restore, a highly-absorbable cream containing cholesterol, fatty acids, and ceramides to hydrate dry winter skin and correct visible signs of aging.
Don't skip the eyes
You should not apply the same creams you use on the rest of your face to the eye area, where skin is thin and delicate. A formula made to absorb in this area, like Colorescience's Total Eye 3-in-1 Renewal Therapy, should be applied daily with the ring finger(s) using a gentle patting motion. This eye cream is designed to visibly improve dark circles, puffiness, fine lines, and wrinkles, plus it contains an SPF 35 mineral sunscreen to protect your face's most sensitive area from sun damage.
You should apply specialized creams to the eye area, where skin is thin and delicate.
Yes, you still need to use SPF indoors
Protect your skin while giving it a smoothing tint: EltaMD® UV Daily Tinted Broad Spectrum SPF 40 defends against UVA and UVB rays with a transparent zinc oxide, and nourishes skin with hyaluronic acid and powerful antioxidants. This is a must-have product for all skin types, and is also recommended to protect post-surgical incisions.
Cleanse gently
While exfoliation is an important regular maintenance step for your skin, daily use of a harsh or abrasive cleanser can dehydrate your skin, causing noticeable lines and redness. Instead, remove impurities by choosing a gentle, non-abrasive facial wash like SkinCeuticals Gentle Cream Cleanser for daily use during the winter.
When you do find your skin needing exfoliation in winter, opt for a professional medspa treatment such as HydraFacial® MD that will gently remove dead skin cells without drying or damaging your skin's protective barrier.
Use nighttime concentrates
To encourage healthy cell turnover and reduce the visible signs of aging, use a concentrate like SkinCeuticals Retinol 0.5 at night. This retinol-based product can help smooth fine lines and wrinkles, improve acne and prevent breakouts, and reduce the appearance of hyperpigmentation. For best results, we recommend pre-treating skin with a less-concentrated retinol formula, such as SkinMedica Retinol Complex 0.25.
Your skin's appearance is the best indicator of its overall health.
Easy solutions for common skin concerns
Your skin's appearance is the best indicator of its health. From dull skin to hyperpigmentation, here are a few common skin issues and the treatments that we use to address them at Exhale Med Spa:
You need hydration: To give your skin an instant hydrating boost, make an appointment for one of our Specialty facials with our Licensed Aesthetician, Crystal Shaffer. For unparalleled hydration and a radiant glow, try our new Vitamin C Facial, designed to transform your skin with the antioxidant benefits of vitamin C.
You want to exfoliate your skin, improve fine lines, and remove peach fuzz: Dermaplaning is the perfect winter pick-me-up for numerous skin issues. Since you'll need to protect your skin from the sun after treatment, winter is the perfect season to undergo dermaplaning treatment as the days are shorter and UV rays are weaker.
You want to improve acne scars, fine lines, and/or discoloration: For those suffering from embarrassing acne scars, sun damage, or visible signs of aging, we recommend SkinPen® microneedling treatments combined with a medical-grade skincare regimen.
Upgrade your skincare routine at Exhale Med Spa
Just like you visit the dentist for a professional cleaning twice a year, regular skincare treatments from your aesthetician can refresh your complexion and address many common skin concerns. Our highly-trained Little Rock med spa team is here to help you achieve smooth, glowing skin with a variety of nourishing treatments customized just for you! Schedule your skincare consultation today by calling (501) 227-0707 or filling out our online form.