Thanks to You, Cosmetic Surgery Center is a 10x Winner of Little Rock's "Best of the Best" Contest
November 4, 2019 - Rhys Branman, MD
Drumroll, please…Dr. Branman has been named the "Best Cosmetic Surgeon" in Little Rock for 2019!
We want to thank all of our patients who took the time to vote for both Dr. Branman and Exhale MedSpa in this year's annual Arkansas Democrat-Gazette "Best of the Best" contest. Because of your votes, Dr. Branman is now an 8x winner of this award, and he is honored to be named Little Rock's favorite cosmetic surgeon.
But that's not all we have to celebrate: Exhale MedSpa was also selected as the Best Day Spa for the second year in a row!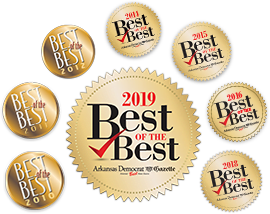 About the Arkansas Democrat-Gazette's Best of the Best Contest
Every year, the Arkansas Democrat-Gazette rallies Little Rock to nominate and vote for their favorite businesses in a range of categories to determine who is the "best of the best" in Little Rock. After an initial period where the community is invited to nominate their businesses of choice in five different categories, the polls open and locals have the opportunity to show their favorite service providers and companies a little love.
Dr. Branman and the Cosmetic Surgery Center & Exhale MedSpa family are honored by this recognition and pleased to offer expert cosmetic surgery and medical spa services to our patients in Little Rock. We look forward to another year of providing you with the same stellar care you've come to expect.
If you've been considering a Little Rock cosmetic surgery procedure or medical skincare treatment, our award-winning team is ready for your call! Contact us today to schedule your consultation; we look forward to seeing you.