Claire Danes Shows Off her Latisse-enhanced Lashes
October 9, 2020 - Rhys Branman, MD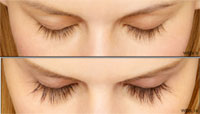 Actress Claire Danes, the latest celebrity spokesperson for Latisse®, shows off her new longer lashes in a before and after photo gallery posted on latisse.com.
Latisse® is the first and only prescription treatment approved by the FDA to grow lashes longer, fuller and darker. Since its approval by the FDA in December 2008, about 1.5 million kits of Latisse® have been sold. Brooke Shields was the first celebrity spokesperson to use and promote Allergan's eyelash product.
With photos at 0, 4, 8, 12, and 16 weeks of product use, the before and after gallery illustrates the product's effectiveness on Danes's eyelashes. The gallery also showcases her lashes at multiple angles, including front, angled and profile views, which clearly show her lash growth. According to the website, none of the photos were retouched.
Danes says she became a "Latisse® girl" because she was curious about the product. "The more I learned about Latisse®, the more impressed I was. I've never used a product that actually affected real physical change," she explains.
Allergan discovered the active ingredients of Latisse® during 2001 clinical trials of Lumigan, a widely-used glaucoma drug. In clinical studies of Lumigan, doctors observed abnormally long lashes among users of the drug. This led Allergan to study the active ingredient in this other product, and after a clinical trial, Latisse® earned FDA approval.
During research of Latisse®, doctors reported on average:
25 percent increase in eyelash length
106 percent increase in eyelash fullness
18 percent darkening of the eyelashes
Latisse® is applied once-a-day to the base of the upper eyelashes, and patients usually start to see results in a few weeks; if you stop applying Latisse®, your eyelashes return to normal.
Dr. Branman carries the drug at his Arkansas cosmetic surgery practice and reports that his patients love it. (Before and after photo via latisse.com)