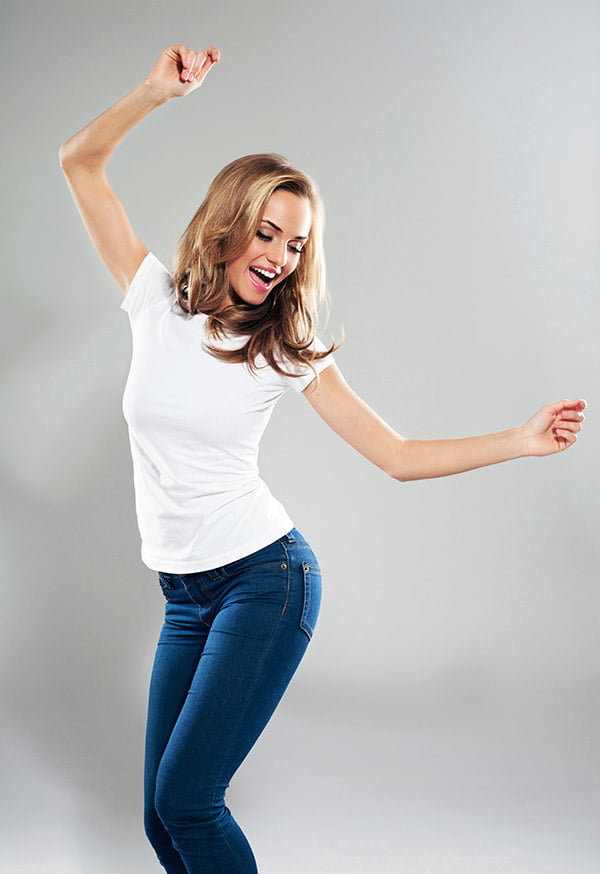 Picture yourself dancing with abandon. When the music is right, it's easy to get lost in the moment and not even notice that your body is getting quite the workout. Before you know it, your heart is pounding and your muscles are sore. But can your sweet dance moves help you achieve a better butt? That depends!
Boogying for a Beautiful Behind
If dancing sounds like more fun than sweating it out at the gym, a "party workout" might be for you. Instead of running or lifting weights, you dance in a club-like atmosphere with lights, pounding music, and choreography designed to tone your glutes. Being in a crowd of fun-loving people who take fitness seriously can be extra motivating—you may not even notice that you're working out until you start seeing how tone and fit your butt is becoming.
The party doesn't have to stop after you leave a club. In fact, you can get the same booty-shaking workout at home. Start by playing music that gets you in the mood to dance and try including these glute workouts in your routine for maximum benefit:
1. Lean forward and jog in place with your weight over your toes.
2. Move your hips in a circular motion, as if you're balancing a hoola-hoop. Start slow and work up to a pace that gets your heart pumping.
3. Put your arms over your head and pop your hips forward and back. Keep up the momentum, but listen to your body so you don't over do it. This motion tones your abs and lifts your behind at the same time.
Take It to the Next Level
Shaking it at a club or at home really gets the endorphins pumping, but may not be enough to permanently lift and tone your behind—particularly if you're hoping for an increase in size. Booty-centric dance moves or a pair of short-shorts can help your butt look great in the short-term, but the results won't last forever.
If you want your butt to look tighter, higher, and more voluminous for years to come, you may want to consider a Brazilian butt lift. This safe, effective, and permanent way to re-shape your backside can improve the size and contour of your buttocks for years.
Brazilian butt lift surgery (BBL) is a fat grafting technique that involves harvesting excess fat from troublesome areas with liposuction, such as the abdomen or "love handles," cleaning the fat through a purifying process, and re-injecting it into the buttocks. The result is a larger, shapelier derriére—with the added bonus of less fat in an unwanted area.
How do I get a better booty?
If you've tried dance moves and workout parties but still wish your butt was larger or perkier, now is the time to find out if a Brazilian butt lift is right for you.
Dr. Branman is an experienced Little Rock cosmetic surgeon who can evaluate your current shape and help you decide the best way to perk it up. He works with each patient individually to make specific recommendations about how to improve their curves.
Contact us and learn more about how we can help you have a more beautiful derriére!