Busting 5 Myths About Cosmetic Surgery Consults
January 28, 2019 - Rhys Branman, MD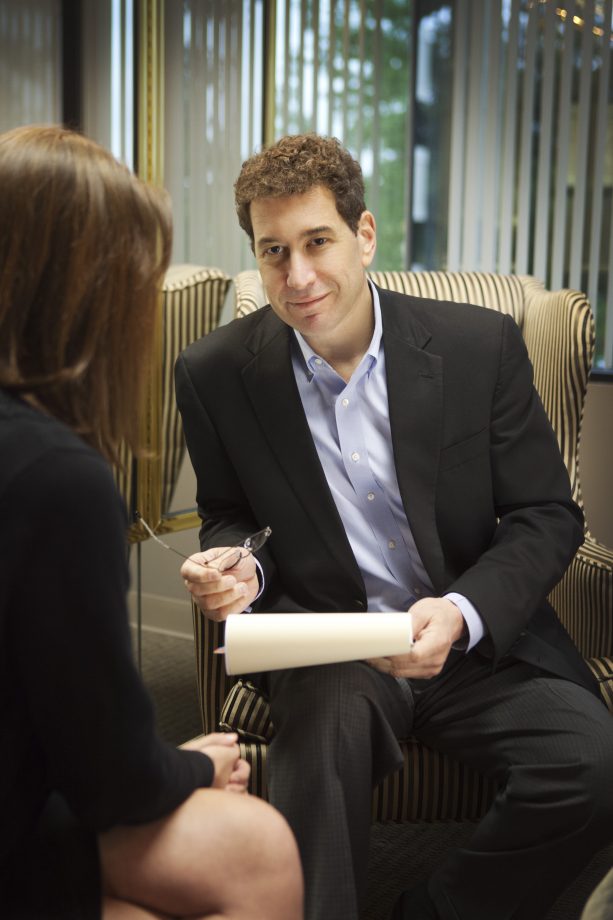 If you haven't had a cosmetic surgery consultation before, the prospect can feel daunting—you might imagine an uncomfortable patient being told everything that's wrong with their appearance by an aloof surgeon. Luckily, that's not how things are at most cosmetic surgery practices—patients are often relieved to find that their consult is relaxed, not at all uncomfortable, and even fun.
As cosmetic surgeons, our job is not to dictate what perfection looks like—or to force that ideal upon you. Rather, our job is to help you feel great about the way you look.
To help you prepare for your appointment, we're debunking some of the most common cosmetic surgery consult myths.
Myth #1: Your surgeon is going to point out all of your flaws or recommend additional procedures
As cosmetic surgeons, our job is not to dictate what perfection looks like—or to force that ideal upon you. Rather, our job is to help you feel great about the way you look. While we will provide expert opinions and make recommendations, you're the star of your consultation.
During your appointment, we'll first listen to the concerns you have and what results you ultimately hope for. Then we'll discuss how we can achieve them in a way that you are personally comfortable with. Typically, the best results are found at the crossroad of a patient's desires, the cosmetic surgeon's understanding of aesthetics, what procedures are most appropriate for the patient, and what can realistically be achieved.
For instance, if you schedule a consultation to discuss correcting breast asymmetry, your surgeon is not likely to randomly recommend a facelift or buttock augmentation—unless you have also expressed interest in improving those areas.
That said, patients often arrive at a consult with a particular procedure in mind only to learn that a different option may be better for them. For example, if you have a tummy pooch, you may come in asking about liposuction, but your cosmetic surgeon may explain that a tummy tuck would better address the loose skin you don't like. Your cosmetic surgeon's goal is to recommend the most appropriate treatment options for meeting your goals—but any procedures they mention will still be within the realm of your original concern. No surgeon should ever make you feel uncomfortable or like your appearance is being attacked.
The primary purpose of cosmetic consultations is to acquaint both the patient and the surgeon with each other and the treatment plan—and the appointment is very much a mutual conversation.
Myth #2: You'll be standing naked in a cold exam room while being drawn on
Cosmetic surgery consultations always involve a physical exam of your areas of concern—but that doesn't mean you have to stand around without clothing. If you are inquiring about any breast or body procedures, you will be outfitted in a robe or medical gown to preserve modesty. Additionally, you'll never be alone with the doctor during a physical exam; a nurse will also be present in the room.
If your cosmetic concerns include more delicate areas, your doctor should be both sensitive and professional. Remember, your cosmetic surgeon is a medical doctor who has spent years helping patients. Your exam will be performed with the utmost decorum and respect—but if at any point you feel uncomfortable, don't hesitate to make your feelings known.
While marking on patients in less common during consultations, you should expect to be drawn on prior to any surgery. Surgical markings are important for your surgeon, confirming the plan and areas you want treated. It also helps with accuracy, as your tissues shift when you lay down. Markings will not be widespread but focused on the areas to be treated.
Myth #3: You have to know exactly what you want
While we encourage all of our patients to perform outside research about their procedures of interest, there is no rule stating that you have to attend your consultation with a clear idea of what exact treatments you want. In fact, coming in with an open mind can be helpful. All we need to begin is general information about what is bothering you and what your goals are.
The purpose of a cosmetic consultation is to help the patient and surgeon get acquainted and then together choose a treatment plan—it's very much a mutual conversation. It is an opportunity for you to see if you feel comfortable with that particular doctor, and for your doctor to gain an understanding of your root concerns and see methods may be best for addressing them.
You owe it to yourself to seek out the very best cosmetic surgery experience.
Just as you rely on the expertise of your hair stylist or car mechanic, you can provide your cosmetic surgeon with some general, key information and allow them to take your input and turn it into a concrete plan using their best judgement and professional opinion.
Myth #4: I will have to decide and pay for my surgery that day
Your cosmetic surgery should only be booked when you feel comfortable and confident moving forward—and many people need extra time to make such a big decision. While you certainly can schedule your procedure at the end of your consultation if you feel ready to move forward, you are not required to.
When you do decide to move forward, most practices will require a deposit to secure your procedure date. This is typically a percentage of your total fee, and will go toward your final payment, which will be due closer to your surgical date. A patient care coordinator or office staff member will review your procedure fee quote and explain your payment schedule and financing options to you.
Whether you choose to schedule your surgery at consultation or not, it's important to remember that most practices put an expiration date on the provided fee quote. This should not force you to rush your decision, but be aware that the price of your procedure may be reevaluated after a certain amount of time has passed.
Myth #5: I can't consult with multiple surgeons
You owe it to yourself to seek out the very best cosmetic surgery experience—and having a consultation with a cosmetic surgeon does not mean you must choose them for your procedure. You can "shop around" until you find a match that works well with you. Everyone responds to different qualities, and it's shortsighted to assume that all cosmetic surgeons and patients will mesh well. Here are a few things to consider as you consult with various surgeons:
Am I comfortable with this surgeon?
Does this surgeon's aesthetic match mine?
Are this surgeon's results similar to what I'm looking for?
Do I feel like I'm being heard?
Do I feel comfortable at the practice? With the staff members?
The American Board of Cosmetic Surgery provides this handy checklist for comparing cosmetic surgeons so you can keep track of your consultations and make an informed decision.
Bottom line: You're running the show, and you should feel great about your experience
Every cosmetic surgeon and practice is unique, and it may take a few tries to find the best fit for you. Our primary goal is to ensure every patient who walks through our door feels well cared for, comfortable, and welcome in our office. If you've been considering making a change or would simply like to learn a bit more about a procedure of interest, contact us today! Together, we can build a treatment plan that helps you look and feel fantastic.