How much do breast implants cost in 2022? A cosmetic surgeon answers your questions about paying for breast augmentation
March 17, 2022 - Rhys Branman, MD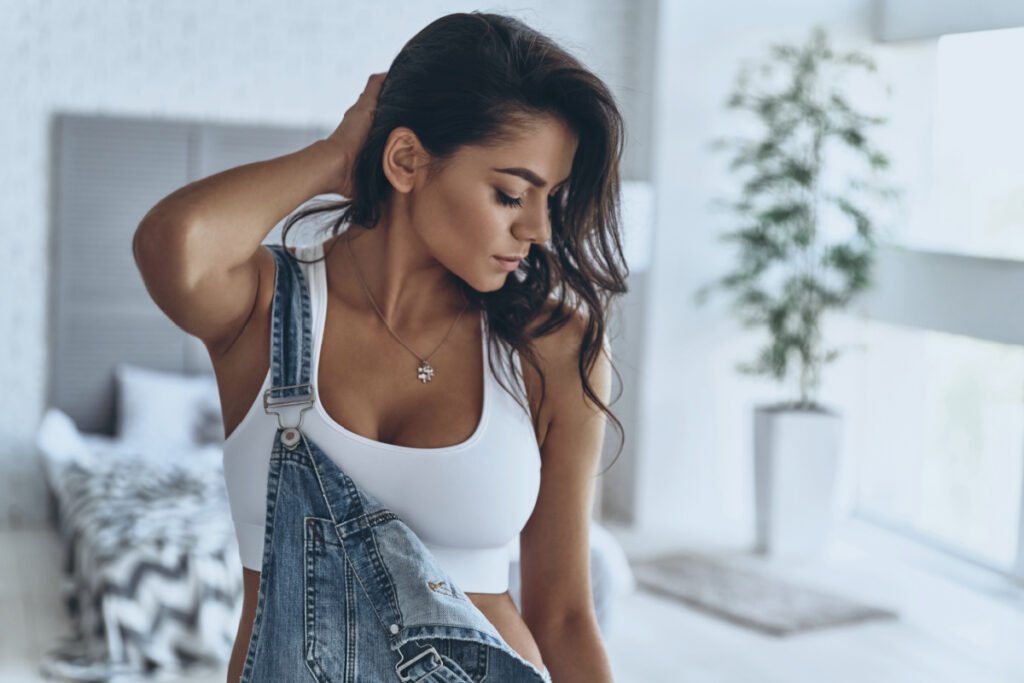 If you're thinking about breast augmentation, you're probably feeling a potpourri of emotions—excited yet overwhelmed by information, curious about your options yet nervous about making the right choices.
Paying for breast augmentation is, luckily, easier than many patients think due to financing options you can use to break most of your costs down into monthly payments. However, you are smart to research market prices before your consultation! Knowing what costs you'll be looking at will help you weed out any providers offering suspiciously low-cost procedures—a serious red flag—and help you set realistic expectations for finances so you can focus on what matters most: your safety, your procedure, and your results.
How much do breast implants cost in 2022?
At our Little Rock office, the all-inclusive cost of breast augmentation in 2022 starts at $4679 for saline-filled breast implants and $5767 for our standard silicone gel-filled implants. The total cost of the procedure includes costs like surgeon's fees or facility fees, and may be higher based on the details of your surgical plan, i.e. if you need a breast lift or correction of tuberous breasts included in your procedure.
Online cost estimates vs. personalized cosmetic surgeon quotes
While online estimates are helpful, it can be tricky to understand exact pricing prior to a consultation. The Aesthetic Society estimates that the national average surgeon's fee alone is $4,866, while RealSelf estimates the average breast augmentation cost, including surgeon's fee, operating room, and anesthesia fees, at $6,550. This difference emphasizes the importance of getting a complete, formal fee quote: surgeon's fees alone can be misleading, and you may need related procedures to achieve your desired result. Thus, the best way to get a true sense of what your breast augmentation will cost is to meet with a cosmetic surgeon and request a formal quote.
After meeting with a cosmetic surgeon in a personalized consultation, you will receive a customized fee quote for the procedure that will meet your goals.
Where you live may affect the cost of breast augmentation
Pricing will also vary according to locale; expect surgeons in areas with a high cost of living to have charges at the top end of national ranges, while here in Little Rock, we can offer more reasonable pricing. Pricing that seems too low in comparison with other cosmetic surgeons in a given area is often a red flag: if an all-inclusive price seems too good to be true, it is likely you will be compromising in terms of surgeon experience or your overall safety, both of which can lead to additional, more costly procedures.
Choose your surgeon based on experience, not price
Instead of focusing on price alone, look for a surgeon who holds specific training in cosmetic surgery, has many years of experience, operates in an accredited surgical suite, and has a clear track record of many happy patients before you. You are investing in you, and spending a bit more is worth getting beautiful, safe results you can enjoy for a decade or more!
If an all-inclusive price seems too good to be true, it is likely you will be compromising in terms of surgeon experience or your overall safety, both of which can lead to additional, more costly procedures.
Can I pay for breast augmentation in monthly installments?
Yes, you can finance up to 80% of your procedure costs and pay in monthly installments through the companies Advance Care or CareCredit® at our Little Rock cosmetic surgery practice. Both companies accept convenient online applications. (At your consultation, we will provide you with an itemized fee quote that is fully customized based on the personal procedure plan that you and Dr. Branman developed.)
How long does breast surgery take? Does a longer procedure cost more?
Breast augmentation surgery itself takes about 1-2 hours to complete and is typically performed under general anesthesia. If you need additional corrective shaping procedures, such as a breast lift, your operation may take somewhat longer and your fees will reflect that—but you will know ahead of time if that is the case.
How many women have to get a second boob job? Does implant replacement cost more than your first augmentation?
The Aesthetic Society estimates that 109,619 women had their implants replaced in 2020. (That's compared to 252,022 women who had their first breast augmentation procedure that year, according to the same report.) The reasons that women have their implants replaced include a change in their bodies or aesthetic tastes, a desire to switch implant fill material, correction of capsular contracture, and (less commonly) treating cases of breast implant rupture.
Breast implants are not lifetime devices, so it is safe to assume you will have another breast surgery one day. On the other hand, it is a myth that you need to replace your breast implants every 10 years. If you are happy with how your implants look and you have no symptoms of rupture, another surgery is not recommended just because you have had your implants for a certain number of years.
Breast implant replacement and correction surgeries typically cost somewhat more than an initial augmentation procedure, as they are highly individualized and more likely to include a breast lift. But the cost is still typically manageable, especially with financing options.
Visit Cosmetic Surgery Center in Little Rock for breast augmentation expertise & experience
When it comes to your surgery, don't compromise! If you are in the Little Rock area, choose experienced, double board-certified cosmetic surgeon Dr. Rhys Branman. As a member of the Arkansas state medical board with over 30 years of experience, Dr. Branman understands your concerns and takes every measure to ensure your safety, comfort, and happiness during your breast augmentation journey. To begin, call our friendly staff 501.227.0707 or contact us through this online form today.