4 Tips for Managing Rosacea from a Licensed Aesthetician
April 28, 2020 - Rhys Branman, MD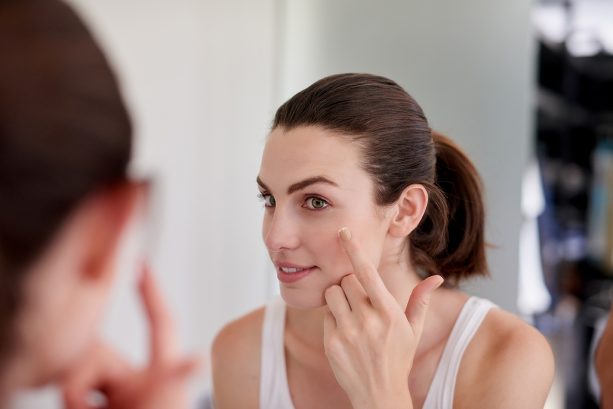 April may be Rosacea Awareness Month, but anyone who suffers from this chronic skin condition knows it's a lifetime concern that can flare up any time of the year. As the root cause of rosacea is still being researched and there is not yet a known cure, the condition remains notoriously difficult to treat.
Our amazing aesthetician Crystal Shaffer recently filmed a quick video with helpful tips for managing rosacea and treating flare-ups. In it, she shares the strategies that have worked best for her rosacea patients.
1. Determine your triggers
Unfortunately, one of the most frustrating aspects of rosacea is trying to figure out what causes a flare-up. From the food you eat or the products you put on your skin to mood changes or the weather, potential triggers can vary greatly between people.
There are some common rosacea triggers including too much sun exposure, harsh weather, fragrance, and alcohol-based products. It's a good idea to take time to reflect on these and any other potential triggers each time your rosacea appears and make detailed notes. Determining the irritants that affect you is an important first step in managing and preventing big flare-ups.
Trying a new product? Make sure to first test it on an area that immediately surrounds your typical flare-up zone to make sure it's safe.
2. Invest in medical-grade, at-home products for calming rosacea
Finding the right makeup and skincare products can be a big challenge for those with rosacea, which is why working with a professional who can recommend medical-grade, safe products is a great idea.
Crystal often recommends anti-inflammatory products from prescription skincare brands SkinMedica and SkinCeuticals, but finding the right cocktail for your skin requires a personal skin evaluation. This is because of the totally unique nature of rosacea and individual triggers. Whether OTC or prescription-grade, even hypoallergenic or gentle products may contain unfamiliar ingredients that cause a flare-up for you.
Crystal recommends testing any new products prior to purchase on a small spot adjacent to your typical flare-up zone just to make sure it's safe. It's also a good way to avoid big problems if you're in a bind without your go-to products.
3. Consider Broadband Light (BBL) treatments
Broadband Light treatment with the Sciton laser is a great option for addressing vascular concerns like rosacea. BBL works by sending a range of intense light wavelengths into pigmented areas and visible blood vessels, specifically targeting chromophores, which are the parts of molecules that carry pigment.
While we can achieve great results with BBL, including improving the overall appearance of the skin and lessening redness during or in between flare-ups, Crystal urges patients to remember one treatment alone is not a solution for rosacea. Your plan should include maintaining an at-home skincare routine, continuing to use any prescribed medications, and scheduling professional treatments every few months.
4. Have a Calm Skin Facial to soothe rosacea + keep skin healthy
Our Calm Skin Facial is an excellent option for those who have rosacea and find most treatments to be too harsh. Even if rosacea is your primary concern, it doesn't mean the rest of your face should be ignored—you just need help from an experienced provider who can provide you with a calming, non-irritating alternative.
The Calm Skin Facial is a thorough facial treatment that relies on gentle techniques for cleansing, exfoliation, and extractions, including a steam-only option for those with particularly inflamed skin. All of this is followed by the Calm Skin Masque to restore hydration and soothe the skin. As an added bonus, this facial also comes with a neck, shoulder, arm, and hand massage to truly help you relax.
Our patients with rosacea love that this facial can shorten the duration and intensity of flare-ups while also providing relaxation and pampering.
We hope these tips are helpful in managing your rosacea. We welcome you to contact our office to schedule a skin evaluation and consultation with Crystal for expert guidance, product recommendations, and customized treatment plans.