By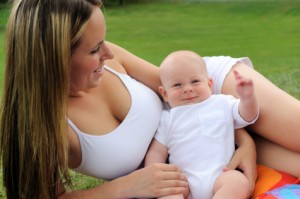 Statistics show that women are waiting longer to have children and yet Mommy Makeovers are most popular among younger women. The Center for Disease Control (CDC) reports that over the past few decades, a full 40 percent of women having children were over 35. In 1970 the average age of a first-time mother was about 21. In 2008 the average age was 25.1. Another 40 percent of women are having babies during what OB/GYN doctors say are the most "secure" age, from age 20 to age 35. Ages 20-35 is the time a woman can expect the least amount of complications during childbirth. The remaining 20 percent are first time mothers under 21.
Statistics have also shown that Mommy Makeovers are most popular among younger women. According to the ASPS breast augmentation has risen 35 percent, while breast lifts rose 69 percent and tummy tucks a full 70 percent between the years 2000 and 2012. Needless to say these procedures are the core of a Mommy Makeover.
So let's take a look at what this combination of facts means. Here are some reasons that younger women may be having the most Mommy Makeovers, rather than their over 35 year old counterparts:
Patients in general are getting surgery at a younger age.
Women of the Millennial generation grew up in this era of reasonably priced cosmetic surgery.
Many young women are working women, those who can afford cosmetic surgery time their family planning with this in mind: When will I go back to work and how will I look?
Whereas, in the 90s career women put off having children, career women of the 21st century want it all, and they want it now!
Don't forget there are still plenty of full time mothers who look forward to quality time with their families, have their children in their 20s and then plenty of time for being involved in a very active family life for the next two decades. Maintaining a home, hiking, camping, and being involved in your children's activities requires a lot of energy and staying in shape! If you want your pre-pregnancy figure back and lose weight to keep up with those kids, early family planning and a Mommy Makeover might be for you. Don't forget though, your best bet is to work out and eat healthy before, during, and after pregnancy. This will not only help your general health and pregnancy, but it will keep you healthy in preparation for surgery too. For details about Mommy Makeovers, click on the links in this post! Or better yet, come on into Little Rock Cosmetic Surgery Center for your free consultation.
Dr. Branman
Call Melinda at the front desk to set up a free consultation 501.227.0707
Posted

November 11, 2013