By
2013 Open House
All information below is related to our 2013 event. Click above to find out more information about this year's open house!
Little Rock Cosmetic Surgery Center would once again like to thank YOU, our patients, for honoring us with your trust and loyalty. It is that spirit of giving that CSC invites you once again to our open house. The past few years in October, Little Rock Cosmetic Surgery Center opened its doors for our Fall Fabulous Open House. You may even be looking forward to this event! We hope so! Last year, we celebrated the accreditation of our new operating room. Yes, we wanted to show off! It's not every day your operating room is fully accredited by the Accreditation Association for Ambulatory Health Care, (AAAHC) as an office-based surgery center. Here are some photos of last year! As you can see the reigning Miss Arkansas attended.
On October 24th, 2013, we hosted our 3rd annual open house event. Beyond the hors d'oeuvres and wine, we featured gifts, door prizes and demonstrations.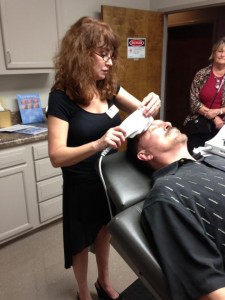 The staff of CSC and I would like to thank everyone of you for allowing us to serve this community for the past 27 years! So please come and join us for our 3rd Annual Fall Fabulous Open House here at Little Rock Cosmetic Surgery Center! Thank you!
Dr. Branman
Posted

October 16, 2013