Breast Augmentation in Little Rock
Imagine enjoying swimsuit shopping, looking amazing in that little black dress, and feeling more confident in your appearance every day. If you're ready to enhance your figure—and your self-confidence—through breast augmentation, we are here to help!
Click to request your Free Consult with Dr. Branman
How much does breast augmentation cost?
The cost of breast augmentation in Little Rock ranges between $4,200 and $5,700. The exact price varies depending on your choice of implant (silicone gel implants cost a little more), your goals and your individual anatomy. When you visit our office for a consultation, you will receive a detailed fee quote. We'll also tell you about all of the financing & payment options available to you.
Your Breast Augmentation Consultation: the First Step
During your consultation, Dr. Branman will evaluate your health, your skin tone, body type and the condition of your breasts to determine the most beneficial option for you. You can also discuss your options for breast implant size and breast implant type as well as implant texture and shape. Dr. Branman may also discuss a Breast Lift would be suitable for you.
With more breast implant choices than ever to get just the right size, shape and fullness, the knowledge and skill of a cosmetic surgeon with 15 years of experience in breast surgery, and the helpful support of our Little Rock cosmetic surgery staff, you can enjoy the beautiful breast contour you've always wanted.
Dr. Branman Discusses Implant Options and Safety
Choosing Your Breast Implants
Our Little Rock breast augmentation patients tell us they have fun choosing their implants, but there are so many options that making the decision can get a little overwhelming. We are here to help.
Dr. Branman is experienced with both silicone gel and saline implants, so he can explain the advantages and disadvantages of each. If Dr. Branman recommends a specific implant, he will discuss with you the reasons for that choice and the results that can be expected in regard to size and breast appearance.
Ready to learn more about your implant options? Read our additional articles on breast implants!
Your Breast Augmentation Questions Answered: See Dr. Branman on Good Morning Arkansas
What is Breast Augmentation Surgery Like?
Breast augmentation is usually performed under general anesthesia on an outpatient basis at Dr. Branman's Little Rock office or at our accredited Surgery Center or Hospital, staffed with experienced, qualified nurses and anesthesia specialists for your safety. The surgery takes approximately one hour to perform.
A breast augmentation incision can be made…
in the crease underneath the breast
along the lower half of the dark skin around the nipple, called a "peri-areolar" incision
in the armpit, called a "transaxillary" incision
All of these methods are designed to result in minimal scarring that is not easily detected.
Working through this incision, Dr. Branman will create a space for the implant, either directly behind the breast tissue or underneath your chest wall muscle (the pectoralis muscle). The implants are then centered beneath your nipples and adjusted to achieve the ideal size and symmetry.
The method of inserting and positioning your breast implant will depend on your anatomy. Dr. Branman will be sure to explain his recommendations at your pre-surgical appointment.
After Breast Augmentation
A surgical dressing is usually placed to protect the incisions. Some swelling, bruising and minor discomfort may be experienced for several days after the surgery. Discomfort can be easily controlled with pain medication. Within several days, the gauze dressings, if you have them, will be removed, and you may be given a surgical bra. Your stitches will come out in 7 to 10 days, but the swelling in your breasts may take 3 to 5 weeks to disappear completely. You may also experience a burning sensation in your nipples for about two weeks, but this will subside as bruising fades.
Getting Back To Normal
You should be able to return to work within a few days, depending on the level of activity required for your job. Dr. Branman will advise you when to begin exercises and normal activities. Your breasts will probably be sensitive for a few weeks, so you should avoid much physical contact until your breasts are no longer sore, usually 3 to 4 weeks after surgery.
Breast augmentation scars will be firm and pink for at least six weeks. They may remain the same size for several months, or even appear to widen. Soon, your scars will begin to fade, although they will never disappear completely. Depending on your age, you should continue routine mammograms after breast augmentation, which have been determined safe and effective for women with breast implants. Click here to see Breast Augmentation before & after photos.
Dr. Branman has been helping Little Rock, Arkansas Breast Augmentation patients since 1998 and he would be happy for you to come in for a free consult
Planning a Big Event? Find Out When You Should Have Surgery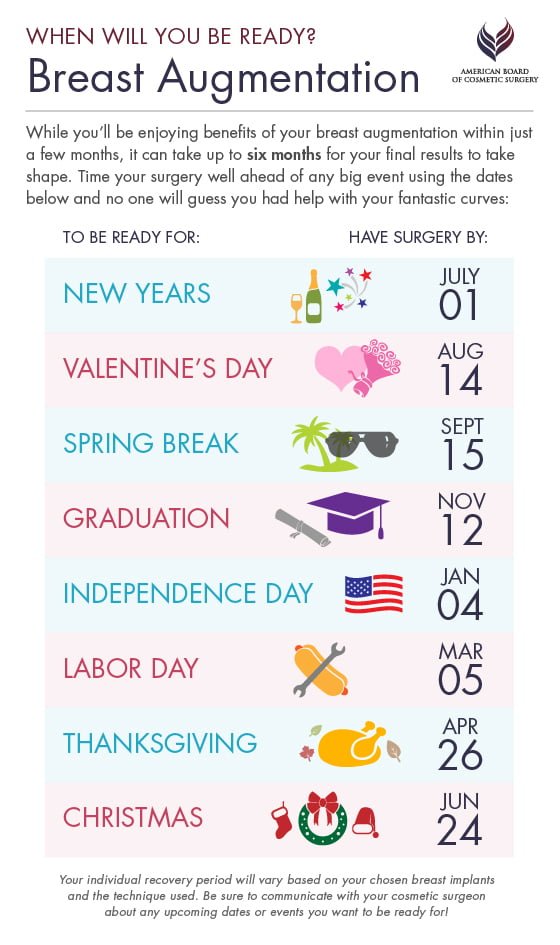 Graphic Provided By: American Board of Cosmetic Surgery