Ulthera Skin Tightening
Tighten your sagging facial skin with no surgery or downtime.

Are you noticing the beginning of those dreaded "jowls" or have a little sagging, loose skin under your neck?We can help you get a noticeable lift and ward off these early signs of aging, without surgery.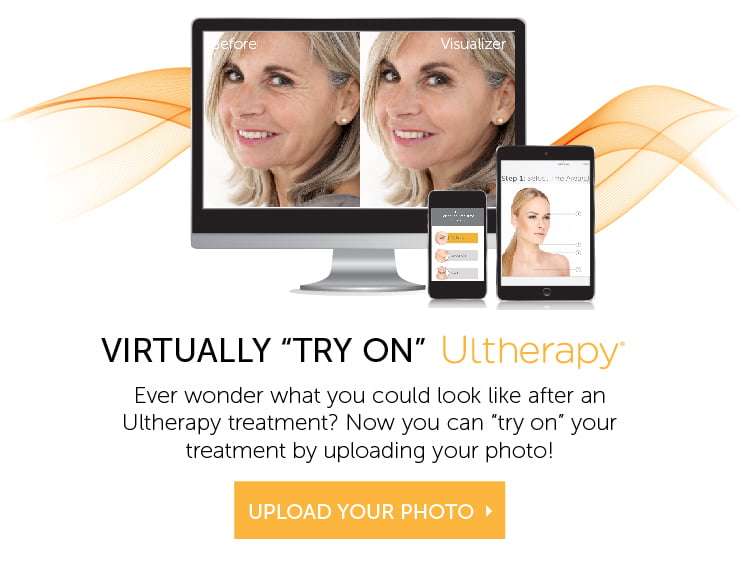 Ultherapy, can tighten and lift loose skin and sagging tissues, creating a more youthful appearance. There are no needles and no incisions, and most patients need no anethesia or numbing agent at all.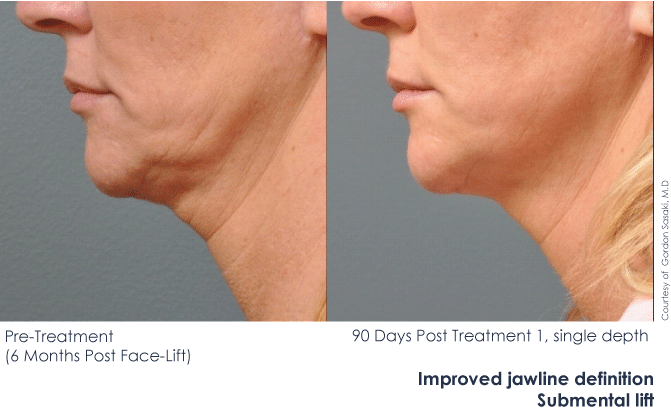 Before & After Ultherapy. Photos courtesy Ulthera inc. and associated physicians
When to Consider Ultherapy
You may be a candidate for Ultherapy if you have a mild to moderate loss of skin elasticity. This can occur on the neck, eyelids, brow and other areas. Fortunately, these conditions are often treatable with Ulthera. This can be the ideal treatment for patients of any age to reduce jowling and sagging facial tissues, and can even postpone the need for facelift surgery in the future.
How Ulthera Works
Ultherapy stimulates your body's own subtle healing response, restoring memory to the skin and tissues.
During treatment, we will touch the Ultherapy ultrasound applicator to your skin, which provides a view of the underlying tissue. Together our medical aesthetician, you will see the areas that will receive the ultrasound energy to activate the needed collagen production.
Without harming the skin, sound waves are delivered deep into the skin to thermally initiate your body's own healing mechanisms.
After Ultherapy in Little Rock
After your Ultherapy treatment, your body will respond and the skin will contract slightly. Over time, as collagen rebuilds, more skin tightening effects will appear to give you a more youthful appearance in the treated area(s). Your results will continue to improve for up to 1 year, helping to "reset the clock" on your natural facial aging process.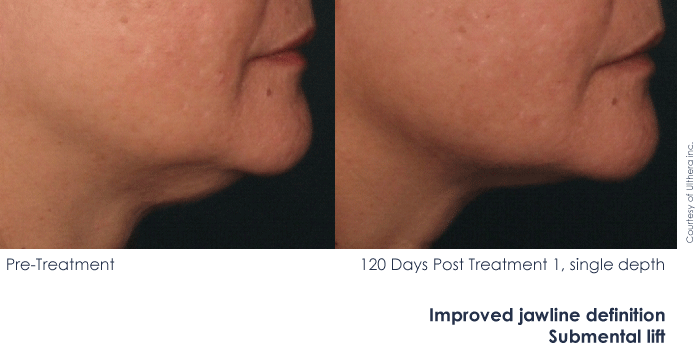 Before & After Ultherapy. Photos courtesy Ulthera inc. and associated physicians
Is Ultherapy Safe?
The medical use of ultrasound energy has a proven track record dating back more than 50 years. Clinical trials have demonstrated the safety of Ultherapy. Since there are no injections, no incisions, and no medications involved in this treatment, there are very few associated risks. The most common side effects are temporary mild redness, swelling or tenderness during the first few days after treatment.
See Diana's Ultherapy Story
Learn why she chose Ultherapy and see the difference before and after treatment.
If you are interested in learning more about Ultherapy skin tightening treatment, feel free to call us. We will be happy to answer any questions you may have at a complimentary consultation at our Little Rock cosmetic surgery practice.