Ulthera Skin Tightening
Updated July 25, 2019
Tighten your sagging facial skin with no surgery or downtime.

Are you noticing the beginning of those dreaded "jowls" or have a little sagging, loose skin under your neck? We can help you get a noticeable lift and ward off these early signs of aging, without surgery.
We're proud to offer Ultherapy skin tightening at the Exhale MedSpa at the Cosmetic Surgery Center. One of the first practices in Little Rock to offer Ultherapy, we've see the lasting improvements this treatment can achieve for patients bothered by sagging skin.
Ultherapy can tighten and lift loose skin and sagging tissues, creating a more youthful appearance. There are no needles and no incisions, and most patients need no anesthesia or numbing agent at all.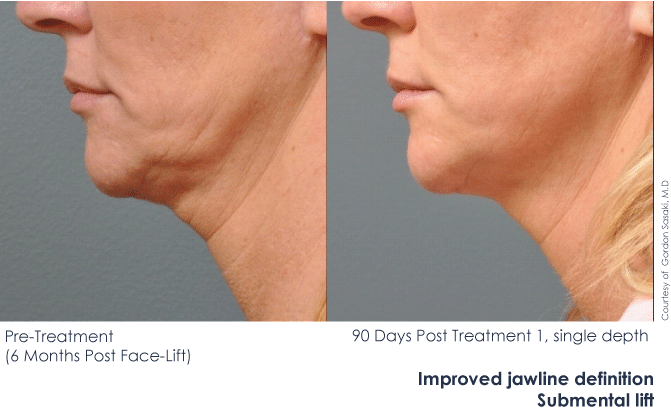 Before & After Ultherapy. Photos courtesy Ulthera inc. and associated physicians
Is Ultherapy right for me?
Ultherapy can be an excellent option to treat mild to moderate loss of skin elasticity in the jowls, neck, eyelids, brow and other areas. If you are bothered by the early stages of jowling and sagging facial tissues, getting Ultherapy now can help you postpone the need for facelift surgery for several years.
Dr. Branman shares the benefits of Ultherapy on KATV Good Morning Arkansas

How does Ultherapy work?
Ultherapy stimulates your body's own healing response by heating the deeper tissues beneath the skin to a precise and controlled temperature. Ultrasound energy, which has been used for decades in the medical field, delivers this heat through the skin without needles or incisions, and without damaging the skin's surface.
During treatment, our licensed aesthetician will place the Ultherapy ultrasound applicator to your skin's surface; this provides a view of the underlying tissue. She will even show you the areas that will receive the targeted ultrasound energy to activate the needed collagen production.
Next, Ultherapy delivers ultrasound waves deep into the skin to initiate your body's own healing mechanisms.
When will I see results after Ultherapy?
After your Ultherapy treatment, many patients notice an immediate difference in the tightness and texture of treated skin, as the skin contracts slightly in response to the heat. Your skin will become even firmer and more lifted over the course of a few months, as your body rebuilds collagen and elastin in the treated area(s). Results can continue to improve for up to 1 year, helping to "reset the clock" on your natural facial aging process.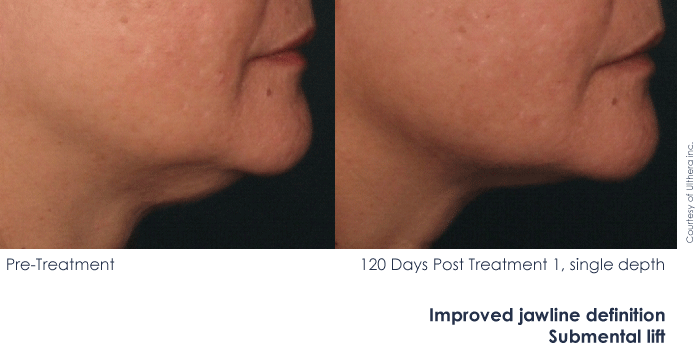 Before & After Ultherapy. Photos courtesy Ulthera inc. and associated physicians
Is Ultherapy Safe?
The medical use of ultrasound energy has a proven track record dating back more than 50 years. Clinical trials have demonstrated the safety of Ultherapy. Since there are no injections, no incisions, and no medications involved in this treatment, there are very few associated risks. The most common side effects are temporary mild redness, swelling or tenderness during the first few days after treatment.
See Diana's Ultherapy Story
Learn why she chose Ultherapy and see the difference before and after treatment.
Schedule your consultation at Exhale, The MedSpa at Cosmetic Surgery Center
If you are interested in learning more about Ultherapy skin tightening treatment, please give us a call! We offer personal consultations at Exhale, the MedSpa at Cosmetic Surgery Center in Little Rock.